Each fall, my ballots for the International Boxing Hall of Fame arrive, and the task of voting in the modern boxing category is not all that difficult.
In most years, there are usually three new names added to the ballot, and at least a couple of them are no-brainers. Last year, for example, Erik Morales, Vitali Klitschko and Winky Wright were on in their first year of eligibility. All three of them were easy votes to cast.
In fact, there were so many good candidates eligible for the first time that the Hall of Fame made an exception and added five new names and expanded the ballot from 30 to 32 candidates, also including Ricky Hatton and Ivan "Iron Boy" Calderon. It was no surprise that Morales, Klitschko and Wright were all elected and inducted into the Canastota, New York, shrine in June.
This year, it's an entirely different story.
For the first time in the roughly 16 years I have been voting, none of the newcomers to the ballot were, in my view, a slam dunk. The three new names were former bantamweight and junior featherweight world champion Rafael Marquez, former featherweight world titlist Chris John and former four-time super middleweight world titleholder Mikkel Kessler.
So what to do? Electors can vote for up to five candidates, and three will be elected when the results are announced on Dec. 5, with the inductions on the 30th annual weekend on June 9.
As I have harped on for years, I would prefer that the election be done like the Baseball Hall of Fame, meaning a 75 percent threshold for election. Some years there might be several candidates voted in. Some years there might not be any. That's just the way it goes.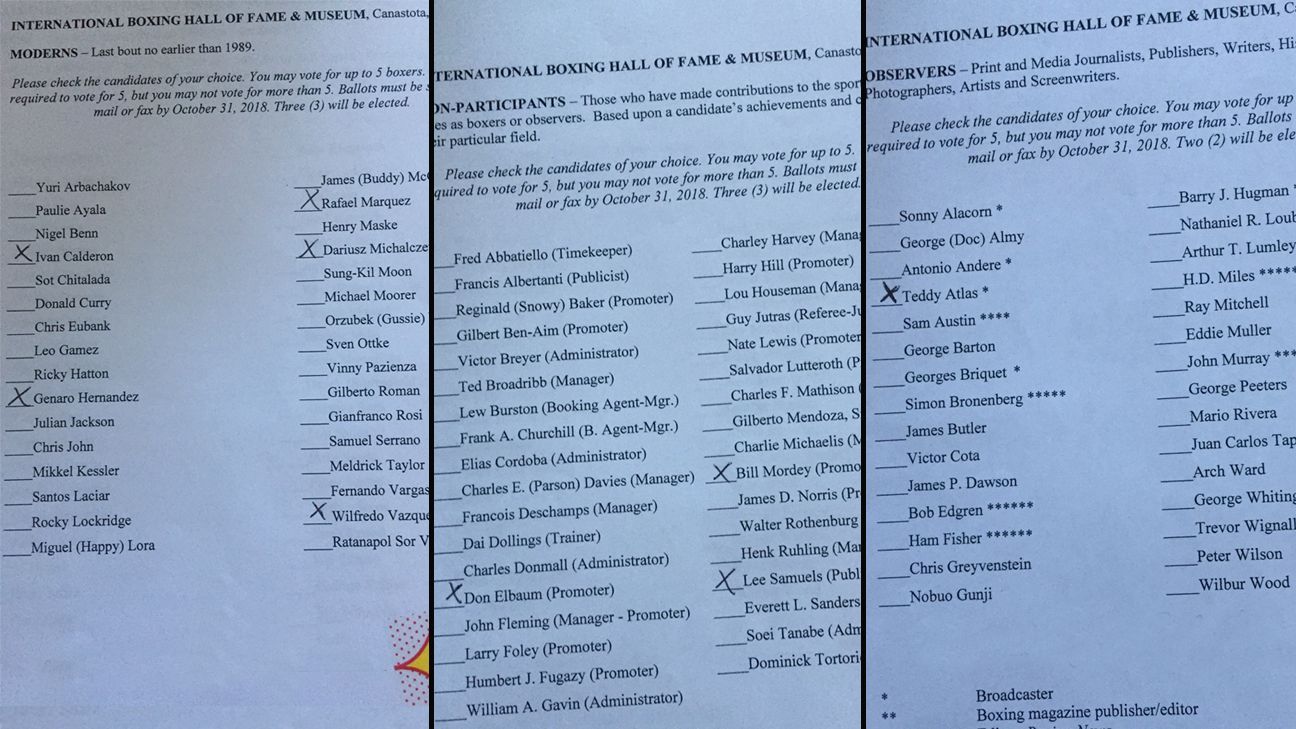 click to enlarge
Unfortunately, that's no how the Boxing Hall of Fame operates. I have voiced my opinion to the powers that be, but like it or not, three fighters will be elected. That means somebody could, in theory, receive a tiny percentage of votes and still be enshrined, and I don't think that's right. Conversely, there could be several worthy candidates who might rack up a very high percentage of votes, but only the top three would make it. The Hall of Fame also does not reveal the vote totals, so we never know the breakdown.
This year, I voted for the maximum of five fighters in the modern category (meaning their last bout was no earlier than 1989) from a ballot that included the three newcomers and 29 holdovers: Yuri Arbachakov, Paulie Ayala, Nigel Benn, Calderon, Sot Chitalada, Donald Curry, Chris Eubank Sr., Leo Gamez, Hatton, Genaro Hernandez, Julian Jackson, Santos Laciar, Rocky Lockridge, Miguel "Happy" Lora, James "Buddy" McGirt, Henry Maske, Dariusz Michalczewski, Sung-Kil Moon, Michael Moorer, Orzubek "Gussie" Nazarov, Sven Ottke, Vinny Pazienza, Gilberto Roman, Gianfranco Rosi, Samuel Serrano, Meldrick Taylor, Fernando Vargas, Wilfredo Vazquez Sr. and Ratanapol Sor Vorapin.
I voted for one of the newcomers, Marquez, as well as two fighters I voted for last year who did not get elected: Calderon, whom I thought was highly deserving last year but found himself in a crowded field of worthy newcomers, and the late Hernandez, whom I have voted for consistently throughout the years.
Given that it was a down year, I also took time to re-examine some others on the ballot and made the difficult decision -- I take this very seriously -- to also vote for Vazquez (whom I have voted for in the past but not in deeper years) and Michalczewski, whom I voted for for the first time.
Mexico's Marquez (41-9, 37 KOs), the younger brother of shoe-in Hall of Famer Juan Manuel Marquez (eligible next year) was the best of the newcomers. He boxed from 1995 to 2013, and though he lost his pro debut, he went on to have a dominant bantamweight title reign from 2003 to 2007 and later engaged in an epic four-fight series with Israel Vazquez. They went 2-2, and it produced two fights of the year and a round of the year.
Even before Marquez won his first title, he scored two major victories against Hall of Famer Mark "Too Sharp" Johnson in 2001 and 2002. In 2003, Marquez knocked out then-undefeated and long-reigning bantamweight titleholder Tim Austin in the eighth round and made seven defenses. Marquez moved up to junior featherweight in 2007 and stopped Vazquez in the seventh round to win a junior featherweight title in an epic battle. They fought three consecutive incredible fights in 2007 and 2008. The second and third fights were both the ESPN.com fights of the year, and the only reason the first fight didn't win was because it was in the same year as the second fight.
Calderon (35-3-1, 6 KOs), a 2000 Olympian for Puerto Rico who boxed from 2001 to 2012, was one of the greatest defensive fighters ever and a regular on the pound-for-pound list during his heyday. I covered a lot of his fights, and although he had virtually no power, he was a wizard. The saying during his prime: death, taxes and Calderon by lopsided decision. He made 11 strawweight defenses and six more at junior flyweight. He beat a slew of the top guys and former titleholders, including Alex Sanchez, Roberto Leyva, Noel Tunacao, Issac Bustos, Hugo Cazares (twice), Nelson Dieppa and Rodel Mayol. His three losses came in his final four fights. For my money, he's in the conversation for all-time best strawweight with Hall of Famer Ricardo Lopez and future HOFer Roman "Chocolatito" Gonzalez.
Hernandez (38-2-1, 17 KOs), the former longtime junior lightweight titleholder, died at age 45 after a three-year battle with a rare form of cancer in 2011. During his 1984-1998 career, his only losses were to Hall of Famer Oscar De La Hoya (at lightweight) and future HOFer Floyd Mayweather in what was Hernandez's last fight.
Hernandez's crowning achievement came in 1991, when he traveled to France and stopped Frenchman Daniel Londas in the ninth round to win a vacant junior lightweight title. He defended the title eight times before moving up to lightweight in 1995 for the loss to East Los Angeles rival De La Hoya. Hernandez retired on his stool after the sixth round because of a shattered nose and was brutally criticized for quitting. But nobody knew how bad it was or that he had hidden the fact that he had suffered a broken nose sparring against Shane Mosley a week before the bout.
Three fights later, Hernandez got another title shot against Hall of Famer Azumah Nelson in 1997. While Hernandez won a split decision to claim his second world title, he will be remembered more for the fighting heart he showed than the victory. "Chicanito" was ahead on all three scorecards when Nelson hit him in the throat after the bell ended the seventh round. Hernandez went down in agony and was told that if he did not continue, he would win the fight and title via disqualification. Hernandez took a few minutes to recuperate, got off the mat and fought his heart out and won the decision. He made three defenses before facing young lion Mayweather, who stopped him in the eighth round to win his first world championship.
Vazquez (56-9-2, 41 KOs), who boxed from 1981 to 2002, is one of Puerto Rico's best ever and won world titles in three divisions: bantamweight, junior featherweight and featherweight. While he may never have been a beloved superstar like Hall of Fame countrymen Felix Trinidad or Wilfredo Gomez, Vazquez's talent was on their level.
His bantamweight title reign was forgettable with one defense, but he came into his own at junior featherweight, where he avenged a previous loss to Raul Perez by knocking him out in the third round to win the title. He made nine defenses, including against Hall of Famer Orlando Canizales, before losing the title at age 35 to Antonio Cermeno in 1995.
At that point, most thought Vazquez was past his best, but he surprised many in 1996 when he rallied for an 11th-round knockout to win a featherweight title from Eloy Rojas. He made four defenses before vacating to facilitate a lucrative challenge to Naseem Hamed for his version of the title. Although Hamed stopped him in the seventh round, Vazquez hung in there. He walked away at age 42 after winning his final four bouts.
Poland's Michalczewski (48-2, 38 KOs), who fought most of his career in Germany, won 48 consecutive fights to start his career. In 1994, he won a vacant light heavyweight belt against Leeonzer Barber and then jumped up to cruiserweight and won a title with a 10th-round knockout of Nestor Giovannini. But light heavyweight was where he was most comfortable, so he vacated the cruiserweight belt and went on to defend the light heavyweight belt 23 times during his 1994-2003 reign. His biggest victory came in 1997, when he outpointed Virgil Hill to claim two other versions of the title and the lineal championship. He also defeated quality opponents such as Montell Griffin and Graciano Rocchigiani, both by knockout.
The rap on Michalczewski is that he never faced Roy Jones Jr., who also was a champion during most of Michalczewski's run. The fight was discussed at various times but never made despite their positions as the clear No. 1 and No. 2 at 175 pounds. I think Jones would have beaten Michalczewski, but he should not be judged on a fantasy fight that didn't happen. He should be judged on his career in total, which was one good enough, on second look, to merit a place in the Hall of Fame.
I also voted in the non-participant and observer categories. In the observer category (30-person ballot, can vote for up to five, two will be elected), I voted for one candidate: my longtime ESPN colleague Teddy Atlas, who was on the ballot for the first time. He was not being considered for his work as a trainer. He was on the ballot that includes broadcasters. Since the inception of the old ESPN2 series "Friday Night Fights" in 1998, Atlas has been a key voice of boxing on various ESPN platforms and one of the best ever at breaking down the X's and O's of a fight and explaining the mental aspects of the sport. Whether you agree or disagree with Atlas' take on things -- and though I have enormous respect for him, I have often disagreed with him -- he's been one of many important voices of the sport.
In the non-participants (35-person ballot, can vote for up to five, three will be elected), I voted for three. The first check mark went to legendary Top Rank public relations man Lee Samuels, who was on the ballot for the first time. He'd give the writers the shirt off his back if it would help with a story or to make deadline. He is as dedicated as anyone I've ever met in the business and one of the few people nobody has anything other than nice things to say about. He's a prince and highly deserving of the honor.
I also voted for two others, promoter Don Elbaum, who was on the ballot for the first time, and one holdover, the late Australian promoter Bill Mordey.
Elbaum, who promoted his first fight when he was 18 but won't ever tell anyone his age, began promoting in the 1960s. He was involved in Willie Pep and Sugar Ray Robinson bouts near the end of their careers and had a knack for coming up with interesting promotional ploys like the time he put on a fight between winless heavyweights in an attempt to determine the world's worst heavyweight. For better or worse, Elbaum was also instrumental in getting promoter Don King started in boxing.
Mordey, who died in 2004, started out as a boxing writer before becoming the most significant promoter in Australia, where he promoted fighters such as Hall of Famers Kostya Tszyu and Jeff Fenech, as well as Jeff Harding, Joe Bugner and Lovemore Ndou.