The odds suggest that the Boston Celtics are most likely to walk away from Tuesday's draft lottery with the fifth (23.7 percent) or sixth (34.2) pick in the 2014 NBA draft. And while luck hasn't been on their side in past years, let's assume the ping-pong balls pop the right way and the Green vault to one of the top three spots.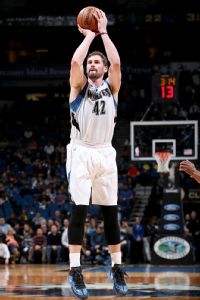 David Sherman/NBAE/Getty
Would you trade a top pick in this year's draft for Kevin Love?The question for you, armchair general manager, is would you trade a top pick in this year's draft for an established superstar?
Kevin Love dominated the headlines this past weekend with reports indicating that he intends to become an unrestricted free agent after the 2014-15 season. That could force the Minnesota Timberwolves to consider trading him this offseason in order to prevent losing him without compensation.
The Celtics, with their stash of trade treasures, including nine first-round draft picks over the next five drafts and young talent, appear to have the sort of assets to make a hard run at any established superstar that becomes available. Yahoo! Sports suggested Sunday that the Celtics have emerged as a increasingly intriguing destination for Love.
The centerpiece of any such package would likely be Boston's top pick in this year's draft (the Celtics also own No. 17, the first of three picks they'll collect from last summer's blockbuster with the Brooklyn Nets). For Celtics fans, the disappointment of missing out on a top-three position could yet again be softened by moving that pick in a deal for an established talent (in 2007, the No. 5 pick helped them land Ray Allen from Seattle, which set the wheels in motion for acquiring Kevin Garnett from Minnesota).
Even in what's perceived to be a deep draft, Boston fans would seemingly be just fine with moving a pick that's fifth or worse. Regardless of how much talent is available in June, there still would be disappointment in missing out on one of the top names that are expected to be potential franchise jump-starters in Andrew Wiggins, Jabari Parker and Joel Embiid.
But moving a top-three pick won't be quite as easy for some to stomach, even if that might help further entice Minnesota to ponder a swap -- and maybe limit how many additional assets the Celtics would have to part with.
Love is a franchise-altering talent, one that won't need time to acclimate to the NBA level and would seemingly vault Boston back to contender status if paired with the likes of Rajon Rondo and complementary talent. Love won't turn 26 until September and topped the NBA in player efficiency rating this season (29.8) while averaging 26.1 points and 12.5 rebounds per game. The downsides? He'll almost immediately command a max-money deal and even his evolution to a superstar wasn't enough to thrust a decent Minnesota team into the playoffs.
Regardless, there's a reason that teams are drooling at the mere prospect of Love becoming available. It's rare that teams have a chance to acquire that sort of All-Star talent. Sure, it'd be easier to cross your fingers and hope to land him on the open market next summer, but Boston's biggest advantage right now is that it possesses the sort of assets that might make the Timberwolves consider doing business early.
So let's say Minnesota was intrigued by a package that included draft picks, a young player like Jared Sullinger or Kelly Olynyk, and some additional parts to make salaries match (Boston also has nearly $8 million in nonguaranteed contracts that could offer trading partners immediate cap space relief). Would you pull the trigger on a deal if it included a top-three pick?
The danger of course is that Wiggins, Parker or Embiid emerges as a superstar talent and Boston misses out on acquiring one of those players at the low-budget price of a rookie pact. The additional cap relief that would offer might help Boston further maneuver to add another star talent using its remaining assets -- including the ones it wouldn't have to part with in making a potential deal for Love.
There's plenty of risk and reward with each scenario. When considering whether to trade a top pick, it might simply come down to just how in love you are with the player available to you.