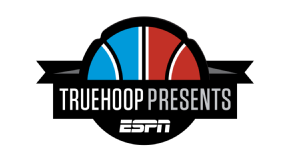 IT'S A TUESDAY afternoon at The Grill, a restaurant tucked inside a Westin in downtown Chicago, just a few miles from his enclave in River North, and Jimmy Butler orders chicken pot pie. His silhouette is backdropped by a beige wall, where paintings in ornate gold frames feature women in Victorian-style dresses, men embracing in cowboy hats, half-sketched black-and-white portraits from some idyllic frontier town.
"To tell you the truth," Butler admits, "I probably won't like this chicken pot pie." Friends harp on his famously idiosyncratic eating habits, chief among them a preference for eating dessert before the main course. "When I was little, everybody used to tell me I could never eat dessert first because it would spoil my appetite. I'm grown now, so I do whatever I want."
A slice of cheesecake arrives before the main dish and Butler is crestfallen -- there's chocolate drizzle. He sends it back and asks for a plain one instead. "I hate chocolate," he says.
Teammate Doug McDermott says that Butler finds a Chipotle order to be ruined if it has more than three miniscule pieces of lettuce.
After lunch, a fan wearing the jersey of the Mexican national soccer team asks him for an autograph. Butler is happy to stop and chat. "Come talk to me," he says. He hedges, "Unless I'm chewing on a big bite of food." And then Butler heads to a private room to babysit an Arnold Palmer, away from the strangers who might bother him.
This, of course, is the point: It's hard to know exactly what Jimmy Butler is -- this in his sixth season with the Chicago Bulls -- because what Jimmy Butler is is at odds with things. Lettuce, chocolate, pot pie.
He's also at war with the idea he's high maintenance. No, no, he insists -- he is "a normal individual," the guy who's always a phone call away, someone who can pop into a store and run an errand for you. He is, to hear him tell it ... Clark Kent.
"He's a god or whatever, and he doesn't abuse his power," Butler says. "He doesn't want the fame. He could walk around in his cape if he wanted to. No. He wants to be a normal human being that works at Metropolis. He's a reporter and he wears glasses. Then, when it's time for him to suit up, like me, when I suit up and I'm an NBA player on the court, it's time to go to work, but as soon as that's done with, I go back to being me."
---
WITH A 28-29 record, giving them the seventh seed in the Eastern Conference, the Chicago Bulls find themselves at an impasse. Mere days remain until the trade deadline, and a reported internal debate rages on: Should they blow things up? If so, should they trade Jimmy Butler, their 27-year-old shooting guard who is signed to an affordable five-year, $95 million max contract through the 2019-2020 season? Is he the future they should build around or is he the road to future assets?
Is Jimmy Butler the means or the end?
The organization has yet to publicly deem Butler untradable, despite persistent rumors tying him to a deal with the Boston Celtics. This, despite the fact that he is averaging career highs in points (24.4), assists (4.9) and rebounds (6.3) per game. He ranks third in ESPN's Real Plus-Minus metric, is about to play in the All-Star Game for the third straight year (and the first time as a starter) and is sniffing the MVP race.
From junior college standout to utility player at Marquette to the 30th pick in the 2011 NBA draft to Most Improved Player to All-Star to Olympian, the ascension of Jimmy Butler complicated the Bulls' most vexing dilemma: If Butler is not who the Bulls need him to be right now, is it possible that one day, he will be?
---
JIMMY BUTLER'S COLLEGE teammates knew the score: If they couldn't spot any light escaping through the door leading into the lounge of the old locker room at the Al McGuire Center, the practice facility of the Marquette Golden Eagles men's basketball team, they knew better than to turn the knob. A tall, lanky kid, listed generously at 220 pounds, would be cramped in between a couch and wooden desk, sleeping, alone.
The wiry limbs nestled inside a sleeping bag belonged to Butler, the self-described "kid from Tomball, Texas," who "went to junior college, got stuck with [coach] Buzz [Williams], snuck into the first round and worked my tail off to get here." He enjoys recalling those college days, in wintry Wisconsin: "Miss me walking all the way to the room, just to walk back to go to practice." And it harkens back to a time when Butler, though he denies he was ever truly homeless, didn't know where he would be sleeping next. Butler grew up in poverty, living with his mother until the age of 13. It was then, after an argument, Butler told ESPN in 2011, that she said to him, "I don't like the look of you, you gotta go," and kicked him to the curb.
For the next two years, he tiptoed from couch to couch, trying to go unnoticed for fear that he would again be told to leave. He would often ration a day's worth of lunch money to last the week. He bent his gangly frame into closed corridors by necessity, until Michelle Lambert, a close friend's mother, took him in. From there, he was able to get a scholarship to Tyler Junior College and, eventually, landed the attention of Marquette University -- and Buzz Williams.
Williams, raised by his mother in Celina, Texas -- a mere 256 miles from Tomball -- was himself cut from nearly identical cloth. He worked odd jobs to put himself through junior college and as a student assistant to the men's basketball team at Oklahoma City University, before landing a gig as an assistant coach at the University of Texas-Arlington. He purchased a blow-up mattress and spent virtually all hours, awake or at slumber, in his office.
It is practically Golden Eagles lore now: Butler, the first player Williams ever signed, faxed his Marquette registration from a McDonald's, forging an immediate connection between the two that muddied the line between coach and player and father and son. All they know is this: They dove headfirst into making the most of any little opportunity they got. It was under Williams' tutelage that Butler was introduced to the watchword of his life: work. The potential -- no, the emancipatory power of hard work. Work as a calling card, the place where struggle meets purpose and breeds invincibility. Work as a means to unbecoming who you were.
When he met Williams, Butler was young, self-assured; he admits today that he thought he knew everything. But Williams, miraculously, turned the cocky specimen who likened himself to T-Mac into a defensive specialist.
Wasting away inside the Marquette locker room, his 6-foot-7 frame cramped into an uncomfortable fold-up chair, Butler daydreamed about ways to get out of Williams' mandatory lectures. Williams treated the coach's mantle like a pulpit, using basketball to impart life lessons on impressionable young men. Six years later, Butler reflects wistfully on the lessons of one in particular: "What you put in the bottle when it's tipped over is what's gonna come out."
"The work I put into the gym, when it's tipped over, when the lights come on, that's what's gonna come out. If I'm working my tail off; I have nothing to worry about. If you don't go hard, the lights come on and you get nervous. I don't get nervous. People ask, 'Do you feel pressure?' I don't. I work incredibly hard. I don't think there's too many people that work harder than me. Buzz was always preaching that. That's always ringing in my head. I take that with me everywhere I go. He helped me a lot in shaping me into the human being, the man that I am today."
Williams explained it his way.
"Jimmy doesn't look at himself as a high-level NBA player," Williams said. "Jimmy looks at himself as, 'I better get better today or tomorrow I'm not gonna be able to eat.'"
---
IT'S A WEDNESDAY night in January, and inside the United Center, the Bulls hold a commanding 10-point lead over the Atlanta Hawks. January hasn't been an easy month for Chicago. Coach Fred Hoiberg kicked off the new year by benching Rajon Rondo for poor play, eventually moving him into a second-unit role. Courtesy of an illness to Butler, they lost three straight games, further highlighting the roster's dependence on him. But here, tonight, they have an opportunity to put that behind them. They are a mere three minutes away from completing a three-game winning streak, retaining a .500 record and notching a victory over another team on the Eastern Conference playoff bubble.
And then, the storm. Over the course of the 46th minute of the game, the Hawks make quick work of the Bulls' offense. They nail three treys and cut Chicago's lead to one -- on their way to a 19-2 run to close out the game. Chicago loses 119-114.
After the game, Dwyane Wade, who plays on the second night of a back-to-back and scores 33 points, enters the locker room with steam pouring from his ears, only to find teammates who, in his eyes, just didn't look pissed off enough. Standing in front of his locker talking to reporters, he goes off.
"I like it. I'm sorry, but I like controversy. Butting heads."

Jimmy Butler
"I don't know if I see enough guys who really, really want it," Wade says. "Losses like this have to hurt them. I'm 35 years old. I have three championships. It shouldn't hurt me more than it hurts these young guys. This s--- should f---ing hurt. You continue to be in these kinds of situations and lose games like this, you really don't care enough. I don't know what happened. I don't know how you fix it. We got to do better knowing film, knowing your personnel. As a team, we got to do better, man."
Butler cites Wade as the best teammate he has ever had. Theirs is a friendship defined by mutual respect. Wade marvels at Butler's work ethic, while Butler sees Wade as the perfect mentor, a consummate professional with the championships, business acumen and brand that Butler craves. And today, Butler, for whom effort equals personal salvation, takes in Wade's tirade -- and then echoes the message.
"If you don't come in this m-----f----- pissed off after you lose any game, something is wrong," Butler says. "This is your job. This is what you're supposed to love to do, and I don't think that everybody looks at it that way. I want to play with guys that care, that play hard, that want to do well for this organization. That want to win games. Do whatever it takes, just win. I don't think that's happening right now. I really don't."
(At the next shootaround following the Hawks game, Butler admits, "I like it. I'm sorry, but I like controversy. Butting heads.")
Cue the social media war. Following Wade's comments, point guard Jerian Grant takes to Twitter: "Tough loss, that hurt for sure. But I play hard TO WIN every second I'm out there, and grind every day for everything I have. I've played this game since I was 4yrs old. Basketball is in my blood and means way more to me than just a paycheck. My point is I work hard, I play hard, and I play to win for our team."
Rondo chooses Instagram as his preferred medium. Captioned under a picture of him, Kevin Garnett and Paul Pierce in Celtics jerseys, is a paragraph-long defense of his younger teammates, as well as some thinly veiled shots at Wade's decision to pace himself, sitting out certain practices and games.
This isn't the first time Butler has aired his grievances in public. Last season's flash point came on the evening of Dec. 19, 2015, when his tattered, exhausted team, after losing in triple-overtime against the Detroit Pistons, got spanked by the moribund New York Knicks. Butler infamously said the team needed to be "coached a lot harder." For all his insistence that the incident was a learning experience, Butler couldn't seem to kick the habit. Just over a week into the 2016-17 campaign, after being drubbed by the Indiana Pacers, Butler said, "We knew we were going to hit adversity at one point. We didn't know it'd be now. We can't start games like this, dig ourselves a hole, come out with no energy. We don't even look like we're out there competing."
As Butler put it at The Grill, "If I don't think you're doing what you're doing to the best of your ability, I will for sure let you know. And I will have no hard feelings about it. I'll embarrass you. I think that comes with the job. You get paid a lot of money. If I'm not doing my end on the basketball court, the media rips me apart. I'm your media."
---
IT'S THE TRAINING camp altercation of Butler's dreams. Inside the Advocate Center, the Bulls' practice facility, limbs are wearing thin. Two-a-days have become common, with practices often running over two hours.
McDermott will tell you the thing that most did in the Bulls last season was an inability to handle adversity. So Hoiberg has styled a game with points of in-game frustration priced in. The team on defense doesn't get the ball back until they make a stop, so the longer the opposing team scores, the longer you play defense.
An average NBA possession takes roughly 15 seconds. The team in black jerseys, defending Isaiah Canaan's team in white, has been on defense for what seems like minutes. Tired of running around in squat formation, chasing shooters through a gauntlet of screens? Well, you better get the stop. But Canaan has other plans. The 6-foot-0 guard is nailing tough shot after tough shot and breaking out in celebration, ratcheting up the delirium, adding insult to exhaustion, evoking Butler's ire.
"You get paid a lot of money. If I'm not doing my end on the basketball court, the media rips me apart. I'm your media."

Jimmy Butler
Donning a black scrimmage jersey, Butler insists that Rondo, his partner in the backcourt, let him switch onto Canaan.
"No," Rondo says. "Let me guard him."
"No, I'm getting off on defense. I'ma get this stop,'" Butler replies, and switches onto Canaan, only to watch him fling another tough shot from his fingertips. As the ball spins through mesh, the team in black can only watch in exasperation.
"You're out there playing so long and playing such good defense," Taj Gibson explains, the longest-tenured Bull on the roster. "Every time somebody hits a strange, tough shot, it pisses you off and tempers flare."
The tension builds. Rondo implores Butler to get it together defensively, questioning the very defensive chops on which Butler hangs his hat. At this point, Butler recalls, they're "for real yelling, cussing at each other."
"Yeah I am, I am the best defender on this team," Butler responds. "That's what I better be able to do."
"You better get first-team all-defense then," Rondo retorts.
"Whatever, if that's what you want, I can do that for you," Butler replies, thinking, He don't think I can do it, I gotta go prove to him that I can. From that moment on, Butler, arms and legs splayed out, hounds Canaan -- he doesn't make a shot for the rest of the game.
---
JIMMY BUTLER SIGNED a $95 million max deal in 2015. He bought a $4.3 million mansion in Chicago's River North neighborhood. He hates chocolate enough to send back the order and has an oft-publicized friendship with Mark Wahlberg. It's not hard to understand why some think he's "gone Hollywood."
Gibson, who had front-row seats to the transformation, contributes to the legend of Jimmy Hollywood, casting Butler as the romantic equal of both James Bond and Joey Tribbiani.
"He's such a playboy now," Gibson said. "When we first met, he was shy. Now he's such a ladies' man. He doesn't do anything, but the words he does say is crisp. That first, 'Hey, how you doing?' is the beginning and the end all in one sentence."
Scratch through the surface, though, and you're left with a man navigating, in earnest, the perks and trappings of success on a mass level. With Chris Johnson, Butler's trainer and now his best friend, it was inside the trenches in San Diego two summers ago, the 7 a.m. workouts and two-a-days, watching hours upon hours of game tape, that the trust slowly began to build. It was there, every morning, before the grind of another laborious day, that they delved into Bible study, considering life, faith and, for Jimmy, how to minimize the personal costs exacted by the achievement of one's biggest dreams.
"The one that scares me the most is the verse that says it's so hard for a rich man to get to heaven," Butler said. "Obviously, I'm very wealthy. I have a nice car and nice clothes, but that's just the life that I live; I don't think that's who I am. I try not to cherish things on this earth when it comes to monetary value. I'm pretty sure anybody could tell you that. I don't care. I've been without it way more years than I've been with it. I know how to live without a lot of money. When I look at monetary value, it's never how much it costs, it's what it's doing for the individual. That's the way I do gifts. Say you're little, you wanted a 1972 Chevelle. When you're 30, if the Chevelle is $10,000 or $100,000, it's the fact that you wanted that car. If that's what you wanted, why can't you have it?"
It's early October in Chicago now, and Butler pulls up in front of Gibson's house in a shiny new 2017 Bentley Bentayga. They're heading to a Kanye West concert, the critically acclaimed Saint Pablo Tour, the floating stage, the Chicago-born legend in his old stomping grounds. Gibson is, for all intents and purposes, hyped -- until he opens the door and the first sound to escape, through 1,950-watt sound system, is the music that threatens to torment the Bulls locker room more than any clash of egos.
"He set the mood for the night with some nice, slow country," Gibson laughs, shaking his head. "He's still Jimmy."
The notion that money corrupts is born from the notion that having a lot of it exempts people from having to fit in. So yeah, it makes some people act differently. An alternative idea is a lack of money makes people twist and grovel into a version of themselves that isn't authentic, for the sake of survival. In that sense, money can be seen as self-actualization. Maybe who you are with it is who you've always wanted to be.
Butler, in many ways, is the same guy, only with the toys he dreamed of having when he was poor. The celebrity he chose to play one-on-one with last season? Country singer Luke Bryan. Spot him backstage at a concert? He's asking Garth Brooks if you can master the guitar without developing permanent callouses on your hands.
That chicken pot pie was interrupted by a text from "E," as in the friend of Mark Wahlberg's who was fictionalized in "Entourage."
To hear it from Butler's mouth, Wahlberg was taping "Transformers" in Chicago and joined a Bulls practice and played some of the guys one-on-one, and then invited Butler, not yet a star, to kick it with him in L.A. and meet his kids. You can hear the admiration in Jimmy's voice when he says, "Hey, I am Mark Wahlberg, but I'm still Mark Wahlberg who grew up in Dorchester, Massachusetts." Like Kobe losing himself in game tape of Michael Jordan, Butler uses the star's life as a template by which to lead his own, to connect the kid who longed for security with the man who'll never want for anything.
"There's always some motivation: a scholarship, you wanna be pro, you want to make X amount of money, a Jordan deal, whatever it may be," Butler says. "But kids, they just do stuff to do it. Their mind, it's not thinking like that. It's like I wanna have fun. I just smile. They really bring joy to everything."
He waxes passionate about the kids he encounters in community initiatives, like Becoming A Man and After School Matters:
"They wanna play ball and talk the game. But I'm like, 'Look man, I'm you, I'm just 10 years removed from where you are.'
"Superman came down here to give people hope. That's what I do. I give people hope."
On Williams' 40th birthday, in 2012, the coach's phone buzzed. "Happy birthday, coach, what are you doing today?" It was a text from Butler, who, unbeknownst to Williams, typed it standing outside of his former coach's home. His phone buzzed again. "Will you come to the door?" Butler proceeded to spend the entire day playing with Williams' kids. Eight hours passed. It got to the point that, Williams' wife, Corey, had to ask if he was going to spend the night.
---
CHICAGO'S MELTDOWN AGAINST Atlanta was, in truth, a microcosm for the Bulls' problems, laying every dynamic bare: power struggles, communication problems, drama. But the pertinent issues occurred during the game. Butler and Wade combined for 77 of Chicago's 114 points. The Bulls made eight threes all night. Four of them were from Butler, who himself is shooting an unexceptional 34 percent from 3 this season. The Hawks, on the other hand, made 17. Chicago is last in the league in both 3-pointers attempted and made -- a predictable outcome, since they committed over $37 million of cap space this past offseason to Rondo and Wade, big-name guards who have never been accused of spacing the floor.
In truth, this is a franchise that has been reeling for years, trying desperately to hang on to its former prestige. At a game below .500, the Bulls are exactly who we thought they would be: crushed by the weight of their own expectations and history; and concocting Band-Aid solutions, such as firing head coach Tom Thibodeau and blaming the team's decline on his overbearing style, instead of facing the hard truth. Indeed, the Bulls don't possess the talent required to make more than the smallest of playoff runs. No amount of communication or hard work will turn the tide against an in-game revolution.
A better question might be this: Should Butler want the Bulls to trade him? A source close to Butler said the swingman doesn't want that outcome. He is grounded in Chicago, according to the source, and would loathe to leave with unfinished business. Superman, of course, is nothing if not loyal. And Butler feels a degree of loyalty to the franchise that entrusted a first-round pick to a relatively unknown prospect.
But for now, Butler is entrusting the Bulls with his future. And, for all intents and purposes, they have handed him the keys of a burning sedan.