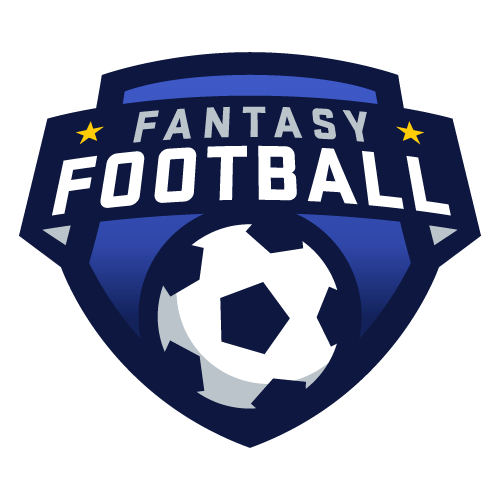 ESPN Fantasy Football
Liverpool fans: Premier League or Champions League?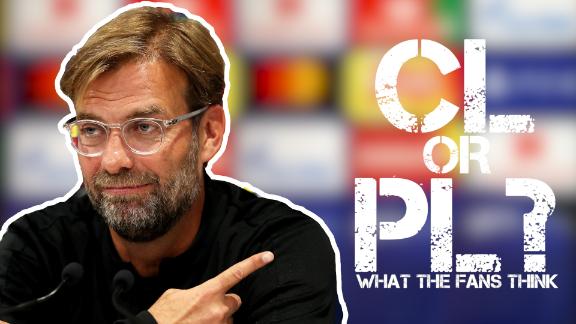 Tuesday Champions League predictor
ESPN FC's Alejandro Moreno and Ross Dyer make their picks for the first day of Champions League fixtures.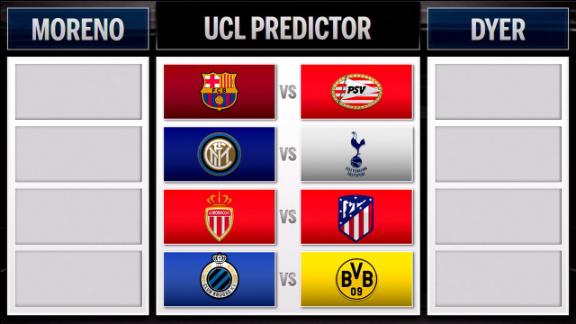 Ferdinand: Rashford should fight for his spot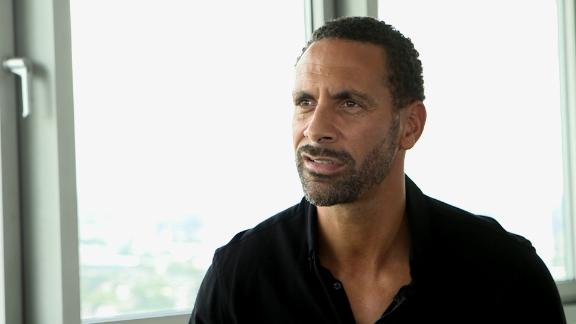 Ferdinand: Pogba wants to be talked about
Gab Marcotti sat down with Rio Ferdinand to discuss Paul Pogba's recent form at the World Cup and at Manchester United and how he wants to be the best.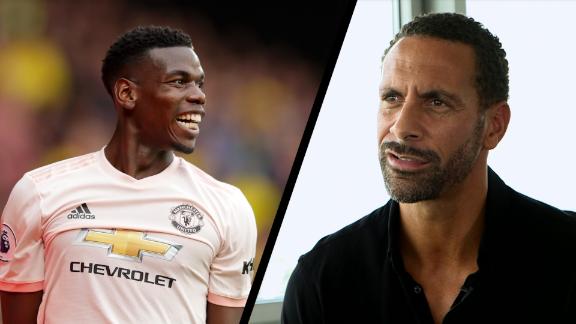 Ronaldo gets rolling with Juventus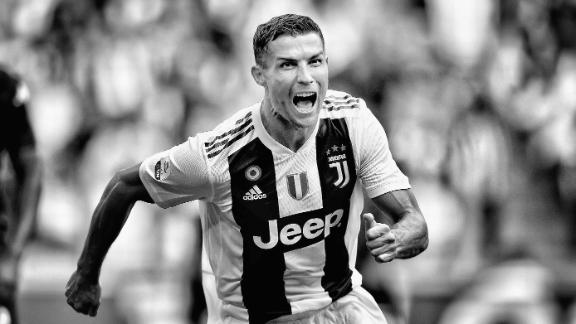 Costa sent off for spitting in Di Francesco's face
Douglas Costa was sent off in the final minutes of Juventus' win over Sassualo after he appeared to spit in face of Federico Di Francesco.
Why Serie A should make an example of Douglas Costa
Peter Walton joins the FC crew to share his candid thoughts on Douglas Costa's spitting incident against Sassuolo and how he should be punished.
Allegri: Douglas Costa had lost his mind for spitting
Juventus' Massimiliano Allegri insists Douglas Costa's red card for spitting at Federico Di Francesco was completely out of character during their 2-1 win over Sassuolo.
How long should Douglas Costa be suspended for spitting?
The FC crew react to Douglas Costa's spitting incident in Juventus' win over Sassuolo and assess how severe his punishment should be.
Cristiano Ronaldo's first goals with Juventus
Cristiano Ronaldo netted his 1st career Serie A goal 320 minutes into his Juventus career and added another later in Juventus' win over Sassuolo.
Tensions flare after Sassuolo goal
Italian Serie A: Khouma Babacar (90'+1') Juventus 2-1 Sassuolo
Ronaldo nets his second goal for Juventus
Cristiano Ronaldo scores his second goal of the match to give Juventus a 2-0 lead over Sassuolo.
Ronaldo scores first goal for Juventus
Cristiano Ronaldo scores to give Juventus a 1-0 lead over Sassuolo.
Player Power Rankings: Latest analysis
Alejandro Moreno and Ross Dyer share their thoughts on this weekend's Player Power Rankings.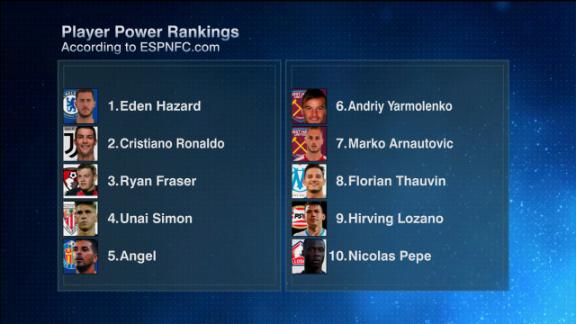 Customise ESPN
ESPN Fantasy Football promo

Manage your squad in the Premier League, Champions League, La Liga and Liga MX.

ESPN

Time is running out for the UK to secure a post-Brexit deal, and there could be huge ramifications for Premier League clubs in the transfer market.

Getty

Check out the completed deals from all the major leagues this summer.

Getty

Welcome to the life of the third-choice goalkeeper, football's version of the perpetual understudy.

ALESSANDRO DI MARCO/EPA

Brian Phillips: For some reason, Cristiano Ronaldo has as many haters as fans. Do we have him all wrong?

ESPN

Rafa Alvarez

A host of top European clubs have changed their manager. Some by choice, while others were forced into it. Here's what we can expect from the new arrivals.

Getty

Nick Hornby: This summer had English fans believing again. But was the team's semifinal run really that impressive?

Marvel

It might not be part of the traditional comic book universe, but Marvel laced up its boots to bring you the epic stories in Russia.

Paul Lacolley

ESPN FC commissioned illustrator Paul Lacolley to create team posters for some of the nations competing at the 2018 World Cup in Russia.

Gian Galang

They battle in the forest, soccer gang against soccer gang. They are the underground fighters the World Cup host doesn't want you to see.

David Merrell

Top-class football is changing before our eyes: The "storming" era of the game is leaving the likes of Jose Mourinho and Arsene Wenger behind.

Dave Merrill

"I never walk out of games early but in these circumstances, staying seemed like a form of self-harm." Nick Hornby on the last days of Wenger.

Trey Ingram

Our intrepid writer suffers -- and suffers some more -- through a player medical at Everton.

Dave Flanagan

The world's top soccer players, ranked by position.

Brian Konnick

We select the best players under 21 who are primed to rule the football galaxy.

Aaron Dana

Cristiano Ronaldo isn't just one of the greatest on the pitch; he's the G.O.A.T. off it, too. Take a trip inside the mad world of CR7's brands.

EPA/FERNANDO BIZERRA JR

In November 2016, Brazilian underdogs Chapecoense boarded a plane to play in the game of their lives. Instead, their biggest moment turned into a tragedy no one can forget.

Getty

Keep track of all the important upcoming fixtures in the Premier League, Champions League, La Liga, English Football League and more.

Getty

Results and scores from the Premier League, Champions League, La Liga, English Football League and more.

Getty

Updated tables from the Premier League, Champions League, La Liga, English Football League and more.