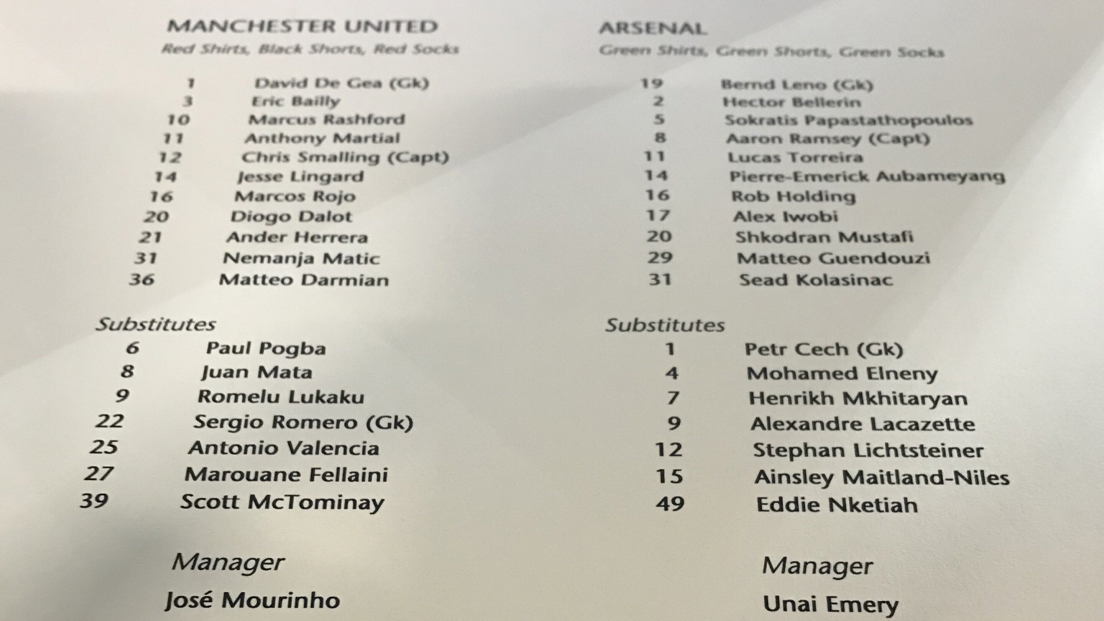 Jose Mourinho not shying away from the big decisions with his team to play Arsenal. Pogba and Lukaku only on the bench. Dalot making his first Premier League start and Rojo in for the first time this season.
Can Arsenal lift Old Trafford curse?
Arsenal's last Premier League win at Old Trafford was in 2006, can Unai Emery's Arsenal break the hoodoo?
Dog saves goal in the Argentina
Defensores de Belgrano keeper Brian Leandro's howler was saved by a pitch-invading pooch, keeping out Juventud Unida de Gualeguaychú's certain goal.
Boca fans give players huge send-off to Madrid
Boca Juniors fans lined the streets of Buenos Aires to give their team a big send-off as they began their journey to Madrid for the second leg of the Copa Libertadores final.
Transfer Rater: Ramsey to Barca? Pulisic moving in January?
Shaka Hislop examines the latest transfer rumours involving Aaron Ramsey, Ruben Loftus-Cheek, Christian Pulisic, Chicharito and Toby Alderweireld.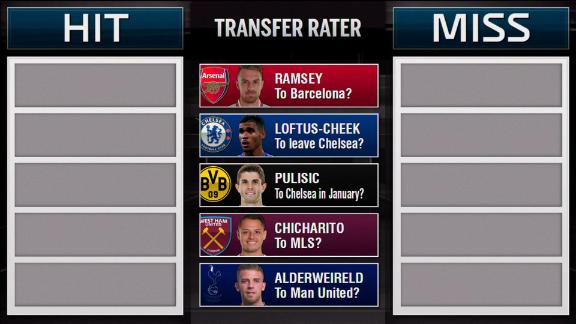 Premier League Predictor: Midweek fixtures
Mark Donaldson and Craig Burley go head-to-head in predicting the midweek Prem matches, as Liverpool look to keep the pressure on Man City.
Prem in 90 Seconds: Derby drama and Hughes, not Mourinho, sacked
The Exploding Heads bring you everything that happened over the Premier League weekend in a convenient 90-second (plus stoppages) package.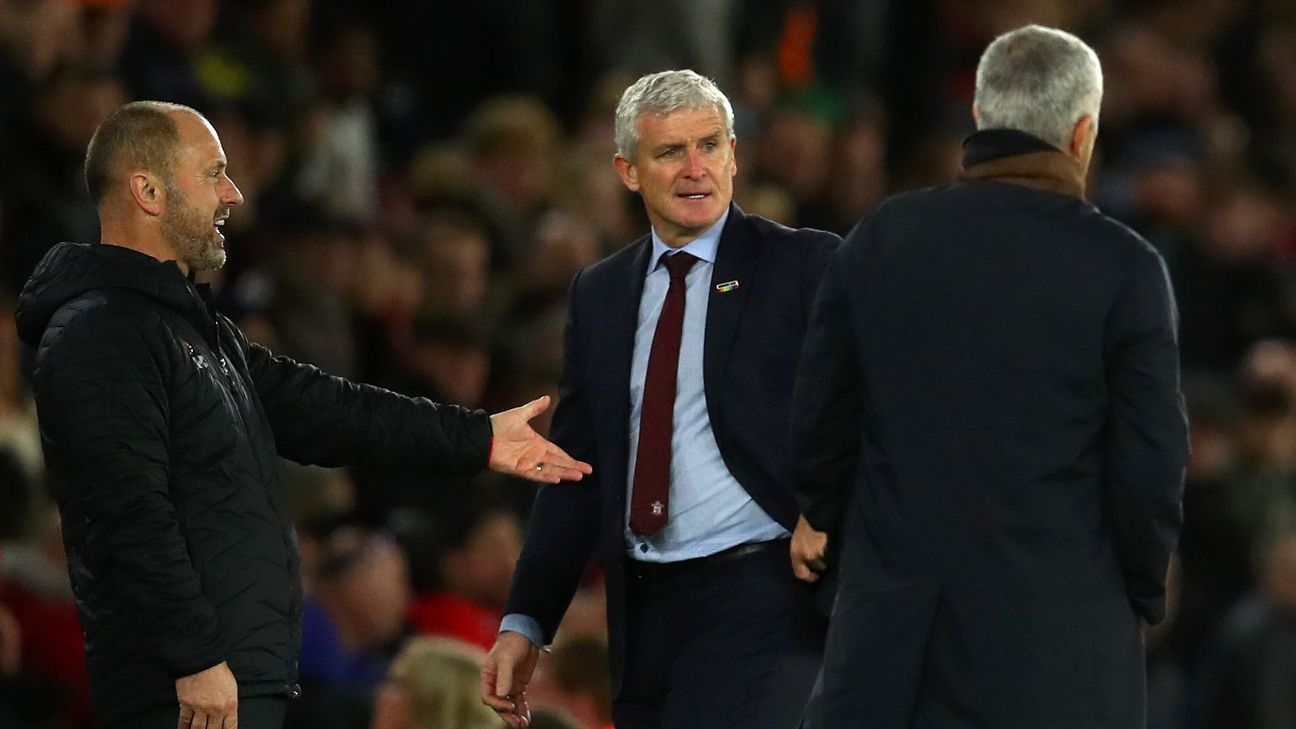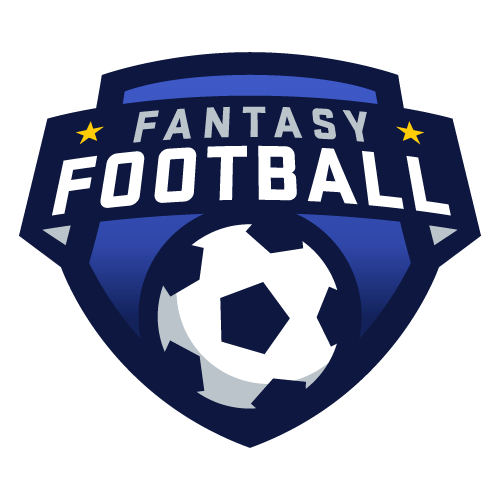 ESPN Fantasy Football
Exploding Heads' Alternative Ballon d'Or awards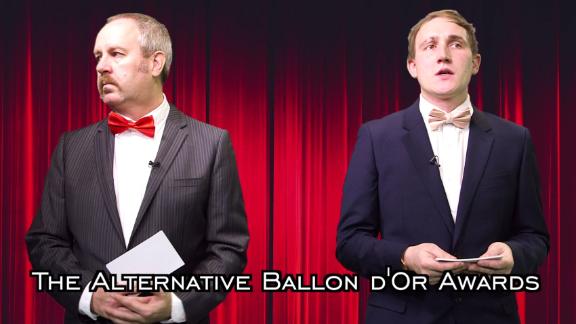 Hegerberg: Solveig shouldn't have asked about twerking
Ada Hegerberg insists Martin Solveig's twerking question on stage didn't affect her, but would have liked a question about football.
Why Modric winning the Ballon d'Or matters in Spain
Some people don't consider the Ballon d'Or a big deal, but Sid Lowe explains why Luka Modric winning the prize will resonate in Spain.
Hegerberg: Ballon d'Or a big step forward for Women's football
The first Women's Ballon d'Or winner Ada Hegerberg insists she didn't consider twerk comments from DJ Martin Solveig offensive as she was just happy to celebrate such an historical achievement.
Mbappe: I need more consistency to win Ballon d'Or
Kylian Mbappe won the inaugural Kopa Trophy for best under-21 player, but feels he needs to be more consistent in the year to have a chance of Ballon d'Or success.
Modric: My Ballon d'Or win over Messi, Ronaldo a victory for football
Real Madrid's Luka Modric insists that although Cristiano Ronaldo and Lionel Messi are exceptional talents, his Ballon d'Or win was for those players like Xavi who missed out because of their domination of the trophy.
DJ Martin Solveig apologises about 'twerk' comments at Ballon d'Or
DJ Martin Solveig made an apology on Twitter apology for asking Women's Ballon d'Or winner Ada Hegerberg to twerk whilst she accepted her award at the ceremony.
Griezmann disappointed to finish third
Antoine Griezmann was disappointed to finish third in Ballon d'Or voting but insists Luka Modric 'earned' the trophy.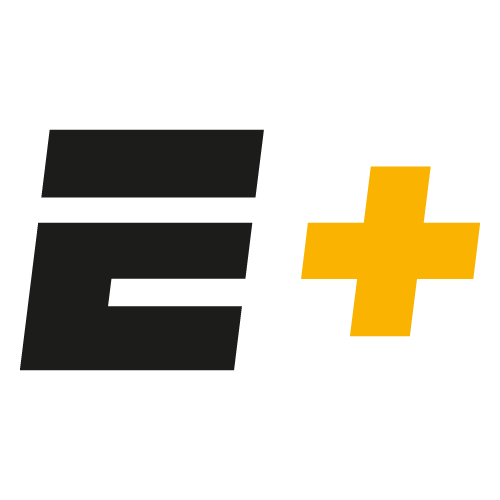 espn fc tv
Extra Time: Neymar's tainted legacy, Keylor Navas, ranking Arjen Robben
The FC guys answer your tweets on Neymar's diving, Keylor Navas' future, where Arjen Robben ranks among the Dutch greats and more.
Making the case for Man City being the best in the world
Steve Nicol says Manchester City's win over Watford was evidence of why they are the best football team in the world right now.
Lowe: Copa Libertadores final largely welcomed in Spain
Does altercation mean the end for Maradona in Mexico?
Herculez Gomez says Diego Maradona needs to be punished for his altercation with fans, but doesn't think his time coaching in Mexico is over.
Extra Time: Most underrated player; is Craig Burley human?
The guys respond to your tweets about the Ballon d'Or, the world's most underrated player, Jose Mourinho and why Craig Burley won't support a team.
Burley: England-Netherlands stands out in Nations League
With the UEFA Nations League semifinals set, Craig Burley believes a resurgent Netherlands side will give England all they can handle.
Would Robben be a good fit for MLS?
Craig Burley shares his thoughts on Arjen Robben's next destination after the longtime Bayern winger announced he'll be leaving at season's end.
Who should replace Mark Hughes at Southampton?
With Southampton parting ways with manager Mark Hughes, ESPN FC's Craig Burley lays out what the club should be looking for in a replacement.
Nicol: Liverpool's front 3 have lost their form
Steve Nicol raises concerns about Liverpool's star-powered front three after substitute Divock Origi came on to score the winner against Everton.
What to expect from new USMNT boss Berhalter
With Gregg Berhalter's long-anticipated appointment as U.S. coach confirmed, the FC crew examine the challenges facing the former Columbus boss.
Customise ESPN
Ryan Inzana

Here are the top 100 players and managers in men's soccer, as rated by our experts.

ESPN Fantasy Football promo

Manage your squad in the Premier League, Champions League, La Liga and Liga MX.

no_source

We examine the UK and Ireland, Germany, Italy, Spain and France to look at areas of production and ask our writers to explain the results.

Finbarr O'Reilly for ESPN

The Class of '92 made their names and won it all at Old Trafford. Now they're trying to take a tiny, working-class team to the Premier League.

Filippo Monteforte/AFP/Getty Images

Roma beat Lazio, but the derby doesn't end, it merely pauses. Because like the city that birthed both clubs, it is eternal.

Dustin Evans

PSG star Neymar was the muse for the main character of a new comic book series, "Inked," in which tattoos come alive to help fight crime.

Angel Martinez/Real Madrid via Getty Images

The biggest problem with the Champions League is that it's trying to be everything to everyone. It's time for the tournament to go rogue.

Freak City for ESPN

Deliberate isolation. Petty feuds. Constant turmoil. The Manchester United manager wouldn't have it any other way.

ESPN Illustration

Ten years ago, Sheikh Mansour of Abu Dhabi bought Man City, transforming the club from Premier League punchline to a dynasty in the making.

Aurelien Meunier/Getty Images

When you win the World Cup at 19, where is left to go? This is the challenge -- and possible nightmare -- facing Kylian Mbappe, writes Simon Kuper.

ESPN

ESPN

Time is running out for the UK to secure a post-Brexit deal, and there could be huge ramifications for Premier League clubs in the transfer market.

Marvel

It might not be part of the traditional comic book universe, but Marvel laced up its boots to bring you the epic stories in Russia.

Trey Ingram

Our intrepid writer suffers -- and suffers some more -- through a player medical at Everton.

Brian Konnick

We select the best players under 21 who are primed to rule the football galaxy.

EPA/FERNANDO BIZERRA JR

In November 2016, Brazilian underdogs Chapecoense boarded a plane to play in the game of their lives. Instead, their biggest moment turned into a tragedy no one can forget.

Getty

Check out the completed deals from all the major leagues this summer.

Getty

Keep track of all the important upcoming fixtures in the Premier League, Champions League, La Liga, English Football League and more.

Getty

Results and scores from the Premier League, Champions League, La Liga, English Football League and more.

Getty

Updated tables from the Premier League, Champions League, La Liga, English Football League and more.