Premier League in 90 seconds: Don't hug Harry Kane so hard
All the happenings from the Premier League weekend, brought to you by the Exploding Heads in a convenient 90-second (plus stoppages) package.
Premier League Team of the Weekend: Week 6
Steve Nicol breaks down his best XI from the sixth week of Premier League action and defends his inclusion of Pablo Zabaleta.
Arsenal 2-0 Everton: Gunners' second-half surge
Alexandre Lacazette and Pierre-Emerick Aubameyang teamed up once again, leading Arsenal to a comfortable 2-0 victory over Everton.
Emery: Arsenal's reaction perfect after half-time team talk
Arsenal's Unai Emery insists he was not happy with his side's lack of control in the first half of their win over Everton and that they need to defend better in the future.
Prem: Top goals from Week 6
Relive the top strikes from Week 6 of the 2018-19 Premier League season, including a top-corner finish from Alexandre Lacazette against Everton.
Unai Emery has Arsenal trending upwards
Craig Burley believes Unai Emery has done well implementing his style, but still has his reservations about Arsenal playing out from the back.
Aubameyang quickly doubles Arsenal's lead
English Premier League: Pierre-Emerick Aubameyang (59') Arsenal 2-0 Everton
Lacazette gets Gunners on the board
English Premier League: Alexandre Lacazette (56') Arsenal 1-0 Everton
West Ham 0-0 Chelsea: Hammers waste golden opportunity
Andriy Yarmolenko had a painful miss in front of goal which could have given Manuel Pellegrini's West Ham their statement win of the young Premier League season.
Sarri: Liverpool are a year ahead of Chelsea
Chelsea's Maurizio Sarri believes his side are not on the same level as title rivals Liverpool and that they have a lot of work to do after their 0-0 draw with West Ham.
Why Chelsea couldn't defeat West Ham
Stewart Robson explains why Maurizio Sarri's side struggled to come away from the London Stadium with a victory over West Ham.
Burley: Europa League no excuse for Chelsea's display
Craig Burley isn't interested in hearing about how the Europa League affected Chelsea's play after they dropped points for the first time this season.
So, you think you're Ronaldo's biggest fan?
Tensions are mounting between the Exploding Heads as they argue over which one of them is Cristiano Ronaldo's biggest fan.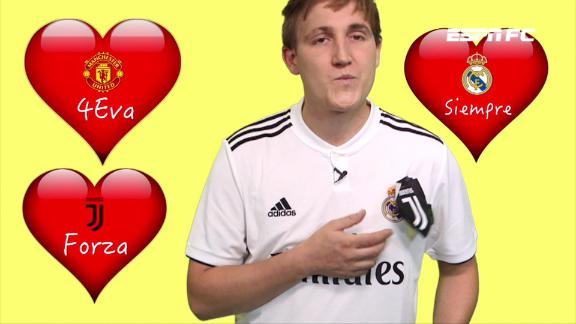 Neymar comforts young crying fan
Neymar gave a hug and his jersey to a young fan who entered the field in tears as Neymar was subbed out of the game in the 91st minute.
Steph Curry challenges Neymar in H-O-R-S-E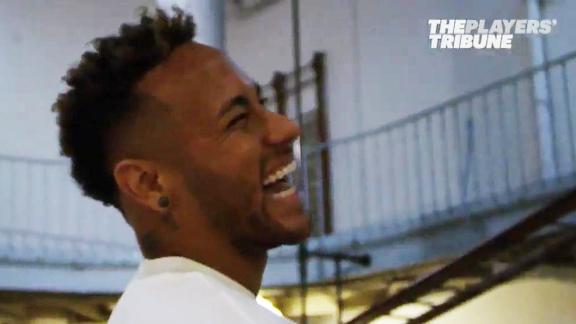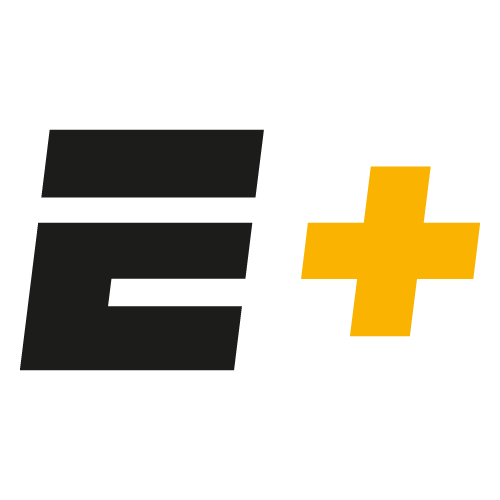 espn fc tv
Was Modric the most deserving of FIFA's The Best award?
The ESPN FC crew assess Luka Modric's credentials after he claimed The Best FIFA Men's Player award over Cristiano Ronaldo and Mohamed Salah.
Ogden: Mourinho not showing he can turn things around
Mark Ogden reflects on Jose Mourinho's comments following Man United's draw against Wolves, raising his concerns about the manager's belief in his squad.
FIFPro World XI: What were they thinking?
The FC guys air their grievances with the FIFPro World XI selections, noting that Dani Alves and Eden Hazard were especially confounding choices.
Salah wins 2018 Puskas Award: Seriously?
Craig Burley says football fans made a "pig's ear" of the vote for the Puskas Award, which was won by Mohamed Salah's goal against Everton.
Extra Time: What should Man United do with Alexis Sanchez?
The ESPN FC crew answer your tweets, including what Manchester United should do to get the most out of Alexis Sanchez.
Moreno: Valverde's rotations cost Barcelona vs. Girona
ESPN FC's Alejandro Moreno explains how Ernesto Valverde's player selection played a major role in Barcelona's 2-2 draw against Girona.
Marcotti: Roma's new pieces not clicking yet
Despite bringing in several new players this offseason, Roma have just one win in five games. Gab Marcotti and the FC guys share their thoughts on why.
How concerning was Juve's slow start vs. Frosinone?
After Cristiano Ronaldo's heroics saved Juventus, the FC crew delve into the Old Lady's inability to net a goal in the first 80 minutes against Frosinone.
Premier League Team of the Weekend: Week 6
Steve Nicol breaks down his best XI from the sixth week of Premier League action and defends his inclusion of Pablo Zabaleta.
Nicol: Salah missing last season's composure
Liverpool may be top of the Premier League and unbeaten, but Stevie Nicol says they must be far more clinical to keep top spot.
Frosinone can't keep Cristiano Ronaldo down
Cristiano Ronaldo had his struggles against Serie A newcomers Frosinone, but Juventus' new superstar couldn't be denied in a dramatic victory.
Pogba's 'best and worst' on display for Man United
Steve Nicol breaks down what impressed and frustrated him about Paul Pogba's performance in Manchester United's draw against Wolves.
Customise ESPN
ESPN Fantasy Football promo

Manage your squad in the Premier League, Champions League, La Liga and Liga MX.

ESPN

Time is running out for the UK to secure a post-Brexit deal, and there could be huge ramifications for Premier League clubs in the transfer market.

ESPN Illustration

Ten years ago, Sheikh Mansour of Abu Dhabi bought Man City, transforming the club from Premier League punchline to a dynasty in the making.

Getty

Check out the completed deals from all the major leagues this summer.

Getty

Welcome to the life of the third-choice goalkeeper, football's version of the perpetual understudy.

ALESSANDRO DI MARCO/EPA

Brian Phillips: For some reason, Cristiano Ronaldo has as many haters as fans. Do we have him all wrong?

ESPN

Rafa Alvarez

A host of top European clubs have changed their manager. Some by choice, while others were forced into it. Here's what we can expect from the new arrivals.

Getty

Nick Hornby: This summer had English fans believing again. But was the team's semifinal run really that impressive?

Marvel

It might not be part of the traditional comic book universe, but Marvel laced up its boots to bring you the epic stories in Russia.

Paul Lacolley

ESPN FC commissioned illustrator Paul Lacolley to create team posters for some of the nations competing at the 2018 World Cup in Russia.

Gian Galang

They battle in the forest, soccer gang against soccer gang. They are the underground fighters the World Cup host doesn't want you to see.

David Merrell

Top-class football is changing before our eyes: The "storming" era of the game is leaving the likes of Jose Mourinho and Arsene Wenger behind.

Dave Merrill

"I never walk out of games early but in these circumstances, staying seemed like a form of self-harm." Nick Hornby on the last days of Wenger.

Trey Ingram

Our intrepid writer suffers -- and suffers some more -- through a player medical at Everton.

Dave Flanagan

The world's top soccer players, ranked by position.

Brian Konnick

We select the best players under 21 who are primed to rule the football galaxy.

Aaron Dana

Cristiano Ronaldo isn't just one of the greatest on the pitch; he's the G.O.A.T. off it, too. Take a trip inside the mad world of CR7's brands.

EPA/FERNANDO BIZERRA JR

In November 2016, Brazilian underdogs Chapecoense boarded a plane to play in the game of their lives. Instead, their biggest moment turned into a tragedy no one can forget.

Getty

Keep track of all the important upcoming fixtures in the Premier League, Champions League, La Liga, English Football League and more.

Getty

Results and scores from the Premier League, Champions League, La Liga, English Football League and more.

Getty

Updated tables from the Premier League, Champions League, La Liga, English Football League and more.