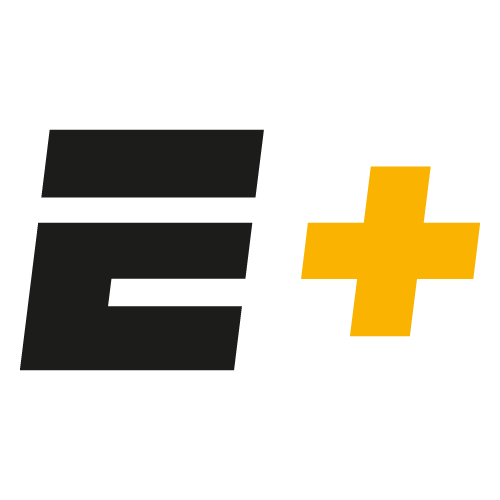 espn fc tv
Extra Time: Frustrating Arsenal; time to announce Berhalter?
The FC guys answer your tweets on Arsenal's draw vs. Wolves and if Gregg Berhalter being appointed U.S. head coach is a formality at this point.
Burley: Man United need the stomach to replace Mourinho
Craig Burley says nothing will change at Manchester United under Jose Mourinho, and a different manager would produce better results.
Player Power Rankings: Cavani catapults to the top
ESPN FC's Paul Mariner and Ross Dyer share their thoughts on the top player performances across the footballing world at the weekend.
Betis loss shows Barca's defensive woes, preparation issues
After Barcelona's home defeat to Real Betis, the FC crew examine the club's issues in the back, and Gab Marcotti questions their preparation.
Marcotti: Boca, River deliver 'absolutely rocking' first leg
Gab Marcotti breaks down the first leg of the Copa Libertadores final, a 2-2 thriller between eternal rivals Boca Juniors and River Plate.
Nicol: Man United never posed a question to Man City
Steve Nicol and Craig Burley examine Manchester City's dominance of rivals Man United in a 3-1 derby win that showed the gulf between the two sides.
Extra Time: Is Serie A over? Should Henry be sacked?
The guys respond to your tweets about Craig Burley working on a Sunday, the Scudetto race, Thierry Henry at Monaco and Arsene Wenger to Bayern Munich.
Milan no match for Juve as Higuain sent off
Juventus asserted their dominance at the San Siro, but the FC crew give credit to Milan for keeping the match close in an adverse situation.
ESPN FC Best of the Week
Check out the best moments from ESPN FC over the past week, including Stevie miming a clown, Shaka's vast Europa League knowledge and more.
Leicester pay emotional tribute to Vichai Srivaddhanaprabha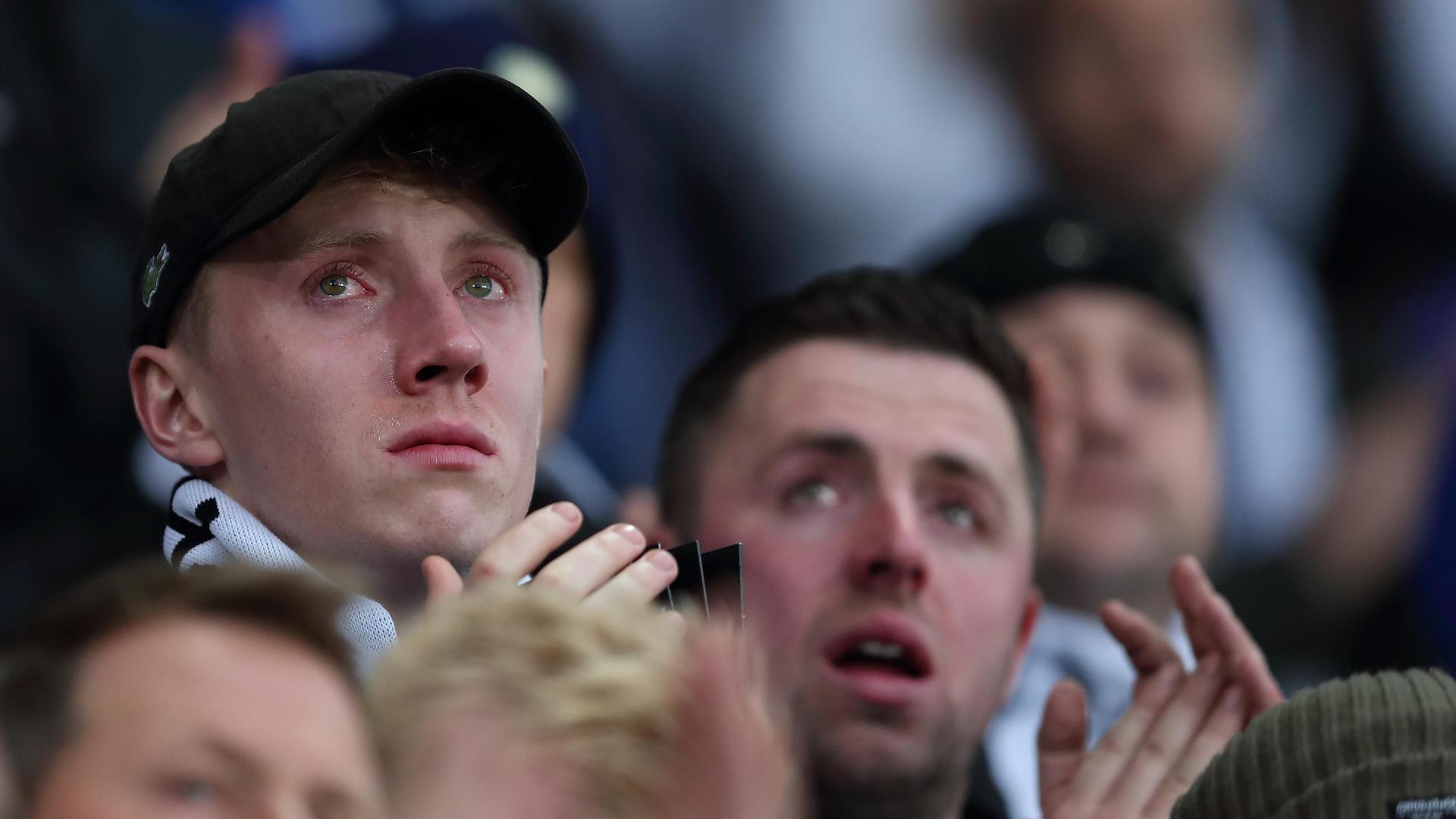 Sarachan: Pulisic vs. Sancho at Wembley will be special
Dave Sarachan says he's excited to see Dortmund teammates Christian Pulisic and Jadon Sancho face off when the U.S. face England at Wembley.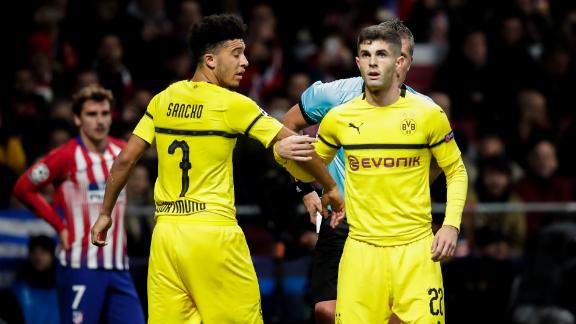 Pulisic: Rooney an inspiration for US soccer
Taylor Twellman spoke to Christian Pulisic for ESPN about playing in Wayne Rooney's last England match and how the USMNT can prove themselves among the best teams in the world.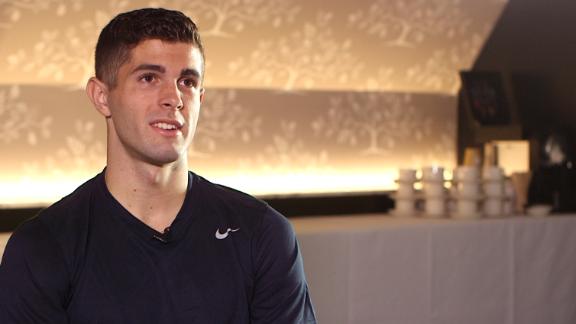 Southgate's 'fearless' for England's youth development
Wayne Rooney said Gareth Southgate is fearless for bringing in so much young talent to the England squad.
Rooney: I might cry on England farewell
Wayne Rooney discusses his emotions ahead of his farewell match with England as they take on the United States.
Horvath: My confidence has been growing at Club Brugge
U.S. goalkeeper Ethan Horvath discusses his return to the national team fold and how his confidence has grown playing in European competition.
Weah: Rooney's a legend & one of my favourite attackers
Timothy Weah talks about a potential loan move away from PSG and his admiration for Wayne Rooney from a young age.
Customise ESPN
ESPN Fantasy Football promo

Manage your squad in the Premier League, Champions League, La Liga and Liga MX.

Freak City for ESPN

Deliberate isolation. Petty feuds. Constant turmoil. The Manchester United manager wouldn't have it any other way.

Filippo Monteforte/AFP/Getty Images

Roma beat Lazio, but the derby doesn't end, it merely pauses. Because like the city that birthed both clubs, it is eternal.

ESPN Illustration

Ten years ago, Sheikh Mansour of Abu Dhabi bought Man City, transforming the club from Premier League punchline to a dynasty in the making.

VCG

"I feel like people at Liverpool and Man City are looking at us and laughing like we did at them many years ago." Andy Mitten sits with the Man United legend.

Angel Martinez/Real Madrid via Getty Images

The biggest problem with the Champions League is that it's trying to be everything to everyone. It's time for the tournament to go rogue.

Aurelien Meunier/Getty Images

When you win the World Cup at 19, where is left to go? This is the challenge -- and possible nightmare -- facing Kylian Mbappe, writes Simon Kuper.

Getty

Welcome to the life of the third-choice goalkeeper, football's version of the perpetual understudy.

ESPN

ESPN

Time is running out for the UK to secure a post-Brexit deal, and there could be huge ramifications for Premier League clubs in the transfer market.

Getty

Nick Hornby: This summer had English fans believing again. But was the team's semifinal run really that impressive?

Marvel

It might not be part of the traditional comic book universe, but Marvel laced up its boots to bring you the epic stories in Russia.

Dave Merrill

"I never walk out of games early but in these circumstances, staying seemed like a form of self-harm." Nick Hornby on the last days of Wenger.

Trey Ingram

Our intrepid writer suffers -- and suffers some more -- through a player medical at Everton.

Brian Konnick

We select the best players under 21 who are primed to rule the football galaxy.

EPA/FERNANDO BIZERRA JR

In November 2016, Brazilian underdogs Chapecoense boarded a plane to play in the game of their lives. Instead, their biggest moment turned into a tragedy no one can forget.

Getty

Check out the completed deals from all the major leagues this summer.

Getty

Keep track of all the important upcoming fixtures in the Premier League, Champions League, La Liga, English Football League and more.

Getty

Results and scores from the Premier League, Champions League, La Liga, English Football League and more.

Getty

Updated tables from the Premier League, Champions League, La Liga, English Football League and more.