Hamilton eases to Hungary win, Vettel survives Bottas clash for second
BUDAPEST, Hungary -- Lewis Hamilton took his fifth win of the season with victory at the Hungarian Grand Prix as title rival Sebastian Vettel and teammate Valtteri Bottas came to blows on track behind him.
In a race dominated by tyre strategy, Hamilton converted Saturday's hard-earned pole position into 25 world championship points with a faultless race from the front. Meanwhile, Vettel, who started fourth on the grid, saw his shot at victory using an alternative strategy fall apart with a slow pit stop on lap 39, keeping him in third place behind Bottas when he emerged from his pit stop with 31 laps remaining.
Bottas, who was on much older and harder tyres than Vettel, held off the Ferrari until lap 66 when his the Mercedes' rubber finally ran out of grip and left him vulnerable at Turn 2. Vettel managed to get the run on Bottas out of Turn 1 and then squeezed the Mercedes to the inside under braking for Turn 2. Bottas, with no front end grip from his 51-lap old soft tyres, ploughed into the back of Vettel at the apex, damaging his fornt wing as the Ferrari miraculously escaped undamaged.
Vettel moved up to second place while teammate Kimi Raikkonen also benefitted from the incident and moved up to third. Bottas then came under attack from Daniel Ricciardo for fourth place with two laps remaining and was again involved in a collision, this time at Turn 1. The incident is due to be investigated after the race after Bottas clattered into the Red Bull as Ricciardo attempted to pass around the outside, but Ricciardo managed to take the position from Bottas a lap later regardless.
The result moves Hamilton 24 points clear of Vettel going into F1's summer break and is particularly significant as it came on a track where Ferrari was expected to hold the edge over Mercedes. It also came just one week after Vettel crashed out of the lead of the German Grand Prix, putting extra pressure on the Ferrari driver when racing resumes at the Belgian Grand Prix in three weeks' time. Mercedes now holds a ten point lead in the constructors' championship.
Pierre Gasly added to his growing reputation after securing sixth place for Toro Rosso ahead of Kevin Magnussen's Haas in seventh. McLaren managed to salvage four points from an otherwise disappointing weekend after Fernando Alonso went long on his first stint and benefitted from an overcut compared to the cars around him. Teammate Stoffel Vandoorne was in position to secure ninth on the same strategy but suffered a gearbox failure towards the end of the race.
That allowed Carlos Sainz and Romain Grosjean to take the last points on offer in ninth and tenth, although they also benefitted from Max Verstappen's retirement with a loss of power on lap six.
How the race unfolded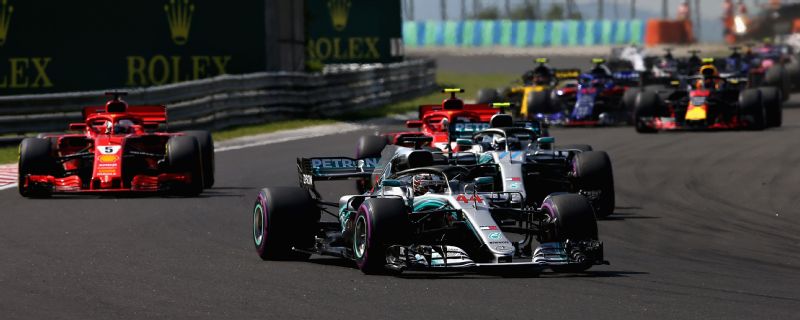 ---
Hamilton made a good start from pole position to lead Bottas into Turn 1 as Raikkonen lost third place to teammate Vettel in Turn 2. Ricciardo, who had started 12th, took a whack from Marcus Ericsson in Turn 1, but was able to continue despite losing a handful of positions and dropping to 15th.
With the two Mercedes leading the way, Hamilton started to ease a lead over his teammate and it became clear that the race would boil down to a strategic battle. Ferrari was the first to roll the dice by pitting Raikkonen relatively early from ultra-softs to softs on lap 14. Bottas covered him off a lap later by mirroring the strategy, meaning both drivers were facing either a two-stop race or a monster stint on their new tyres.
Vettel was the odd one out among the top four as he had started on the soft tyre and therefore could go further into the race before stopping. With Bottas out the way, he could start to use some of the Ferrari's underlying performance advantage over the Mercedes to whittle away at Hamilton's lead, which now stood at around nine second. By lap 22 he had the gap down to 6.5s, but a mistake at Turn 12 on lap 23 saw a chunk of his hard work undone.
Hamilton pitted from ultra-softs to softs on lap 25, coming out 13.6s behind Vettel who continued on his original set of softs. At this point Vettel was trying to pull a big enough margin over Bottas to pit and come out in second, but he also needed to extend his stint long enough to allow him to use the ultra-soft in the final stint and attack Hamilton. His pace was good, equal to Hamilton's pace on new tyres, but he then hit traffic and Bottas started to emerge in his pit window.
Ferrari reacted by pitting Vettel on lap 39, but a slow change on the front left tyre saw him stay stationary for 4.2s and emerge behind Bottas as he rejoined the race track. The slow stop had essentially ended his charge for victory there and then and it was now a case of whether he could beat Bottas to second place on track. Raikkonen had pitted for a second time on lap 38, but Mercedes saw a greater overall advantage in leaving Bottas on track ahead of Vettel than trying to cover off the second Ferrari with a more conventional strategy.
That meant Bottas then had to run a total of 55 laps on his set of soft tyres and his strained rubber ultimately resulted in the mistake that caused the collision on lap 66. In that time, Hamilton had managed to pull a 17.1s lead over his title rival, skewing the result massively in Mercedes favour on the timescreens even though Ferrari had the fastest car in clear air. The result will be seen as a big scalp for the world champions and further proof of how the championship battle will swing on split second decisions and minor errors.