Hungarian Grand Prix preview: Is this Red Bull's time to shine?
Jennie Gow and Craig Scarborough tackle your questions on Fernando Alonso, overtaking and the weather.
---
Budapest will stage the final race before Formula One's annual summer break kicks in. Can Lewis Hamilton maintain his championship lead or will Sebastian Vettel strike back after his Hockenheim heartache?
Focus on... Red Bull's best chance of victory since Monaco?
There's still 10 races left in 2018 but this weekend's Hungarian Grand Prix might just provide Red Bull with its best chance of adding another win to its season tally.
The Milton Keynes based team has already won three times in 2018 -- just one less than frontrunners Mercedes and Ferrari -- but only in Monaco did they have the quickest car. In China, Daniel Ricciardo took advantage of an opportune mid-race Safety Car and demonstrated his overtaking prowess to claim a shock win before teammate Max Verstappen benefited from a Sebastian Vettel grid penalty and a Mercedes double retirement to score an equally surprising victory in Austria.
The demand of high downforce around the Hungaroring bodes well for Red Bull who many would argue are still Formula One's leaders in the aerodynamic department. With less emphasis placed on straight-line speed, Red Bull's pace disadvantage will be masked in qualifying, giving them a greater chance of taking the fight to Mercedes and Ferrari in the race.
Red Bull will also be eager to make amends for what happened in Budapest 12 months ago when Ricciardo and Verstappen collided on the opening lap. Prior to that incident, Red Bull has enjoyed a number of strong showings in Hungary. In 2014 they won the race, in 2015 they scored a double podium and in 2016 they finished third and fourth - behind the rampant Silver Arrows.
With Red Bull not really in the constructors' championship fight, neither Mercedes or Ferrari will consider it a disaster should they finish runner-up to them. Expect Red Bull to seize the opportunity.

---
In need of a win? Sebastian Vettel
It's been quite a while since we've seen Vettel so visibly distraught.
His stunning mistake when rain began to fall at last week's German Grand Prix immediately prompted a teary, apologetic radio message to his Ferrari crew before he hopped out of the car and kicked the gravel trap in disgust. It's an error that has come with monumental consequences. Instead of taking a 30+ point championship lead into Hungary, he now finds himself 17 adrift of Hamilton.
Ferrari has had the quickest car more often than not this season and if they're to go into the summer break with deficits in both world championships it could be a significant psychological blow.
With that said, Vettel cannot afford to dwell on what happened in Germany and instead must approach Hungary with redemption on his mind. He won the race in 2017 to give himself a 14 point buffer in the championship and a repeat performance is what he needs this weekend. If Hamilton is offered the opportunity to stretch the gap at the front, he might not catch him.
In need of points? Pierre Gasly
For Pierre Gasly and Toro Rosso, that P4 finish in Bahrain earlier in the year must feel like an eternity ago.
His flawless drive at Sakhir had many talking him up alongside the likes of Formula One's other talented youngsters -- Verstappen, Carlos Sainz and Charles Leclerc -- but in the nine races which have followed, Gasly has managed to score points on just one occasion. In fact, over the course of the season, he has scored the same amount of top 10 finishes as under-pressure teammate Brendon Hartley.

---
Gasly's racing record since Bahrain looks like this: P18, P12, DNF, P7, P11, DNF, P11, P13, P14.
There's no doubt Gasly has talent but even in an often uncompetitive Toro Rosso he can't afford such a long run of underwhelming results. The good news for the Frenchman? The Hungarian Grand Prix has been a race Toro Rosso has enjoyed in the past. 
Tyre talk
Available compounds: Medium, Soft and Ultra-soft
Pirelli's pointers:
Just like Germany, the notable feature in Hungary is the gap in the tyre nominations, with no super-soft nomination between soft and ultra-soft. The medium is the hardest compound.
This is the first time the ultra-soft tyre has ever been chosen for the tricky and bumpy Hungaroring.
Overtaking is notoriously difficult in Hungary, putting the emphasis on qualifying well and finding an effective race strategy. Handling and agility is more important than outright power.
A one-stop super-soft/soft strategy was the winning option for Vettel last year in a race that was also affected by an early Safety Car.
Minimum starting pressures: Front 19psi, rear 18psi
Weather forecast
If you're heading to the track on Friday make sure you pack an umbrella as there's a high chance of heavy rain. However, it is expected to pass before qualifying with Saturday and Sunday both set to be hot and dry.
Last year also saw scorching conditions on race day and the Ferrari seemed to handle it best as Vettel led home teammate Kimi Raikkonen for a one-two.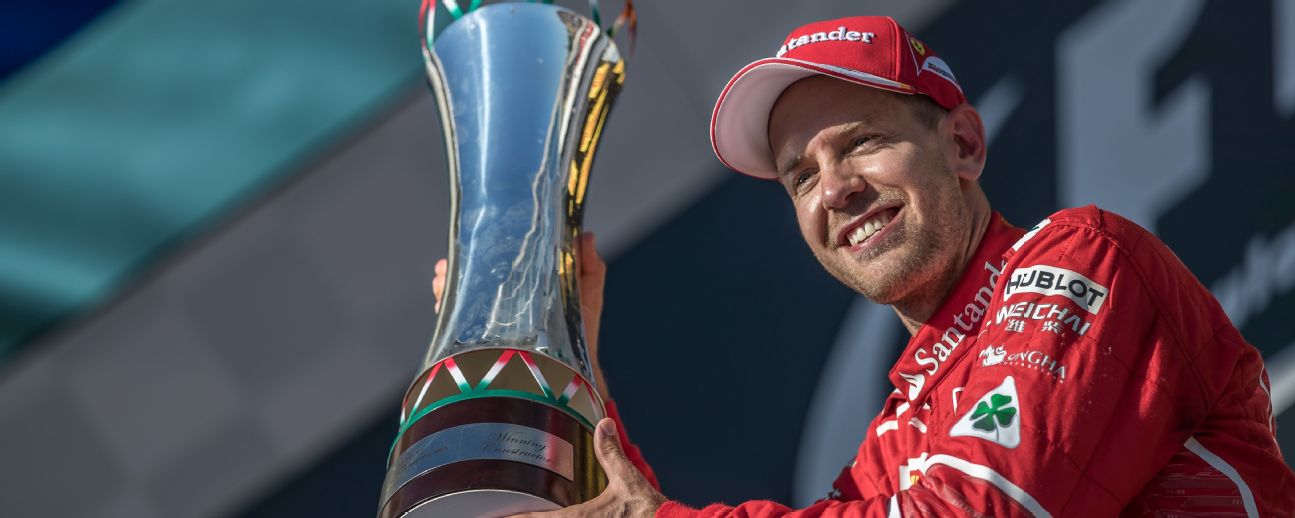 ---
Betting
Four drivers are at short odds to win the Hungarian Grand Prix. For the second race in as many weeks Vettel is the favourite at 13/8 but unlike last week Verstappen is next in line at 11/4. Hamilton and Ricciardo -- who have combined for six wins this year -- are at the third line of betting, both offering up odds of 10/3 for victory.
If you're confident in Verstappen's chances why not back him for pole position, fastest lap and the race win at a juicy 14/1?
ESPN's prediction
He's not a four-time world champion for nothing. Expect Vettel to respond in Hungary and make amends for throwing away the win in Germany. 
Winner: Sebastian Vettel
Bonus prediction: Both Red Bulls to finish in the top four