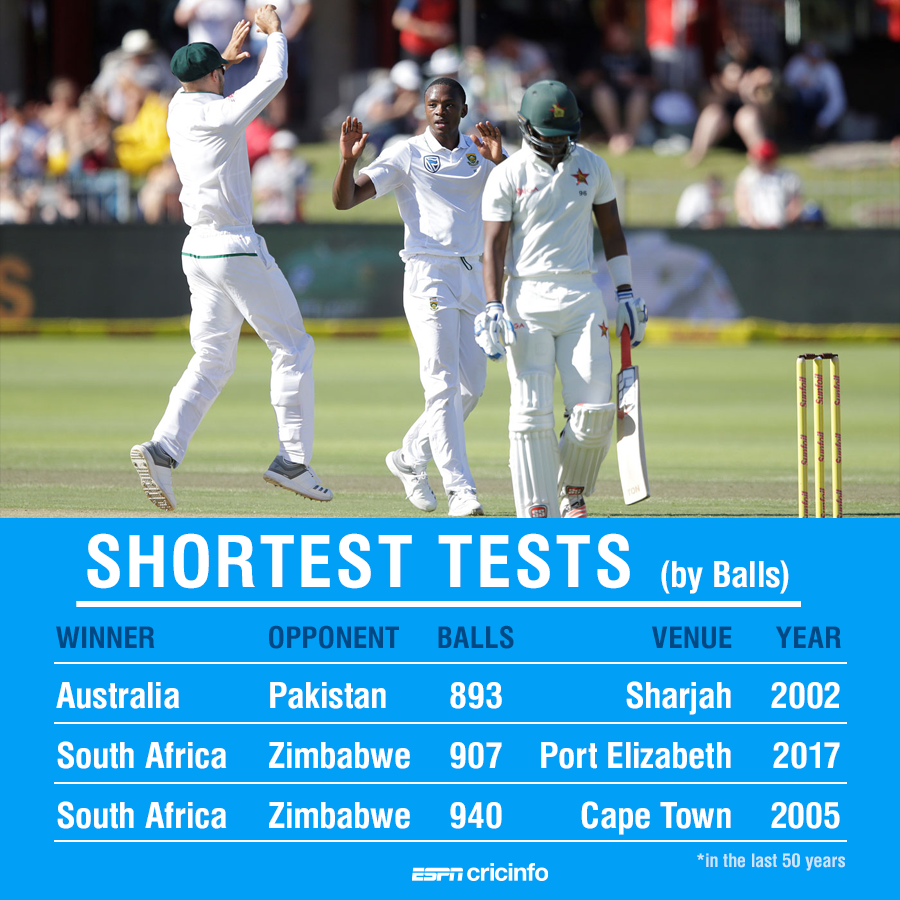 Over in two days, 907 balls
The Port Elizabeth Test between South Africa and Zimbabwe gets registered as one of the shortest completed Tests in history. With a result produced in only 907 balls, this is now the second-shortest Test, in terms of balls, in last 50 years. Among Tests played in South Africa, only once has a Test been completed with fewer deliveries bowled. That was way back in 1889 when the Cape Town Test ended in just 796 balls.
The last time a Test got completed within two days was in 2005, which also featured Zimbabwe. They had suffered this fate twice that year - against South Africa in Cape Town in March and by New Zealand in Harare in August. In the last 50 years, this is only the fifth Test to be finished in two days and all those instances have been since 2000. Zimbabwe, however, have been involved in three of them.
In terms of match aggregates in completed Tests, this match ranks sixth-lowest in the last 50 years with 498 runs: 309 by South Africa and 189 by Zimbabwe. Since South Africa's readmission, this match has the lowest aggregate in a completed Test in South Africa.
South Africa's comfortable win
The hosts required only 436 balls to dismiss their oppositions twice in this match. This is the least balls they have ever bowled to claim 20 wickets. The previous lowest was 440 balls against India in Durban in the Boxing Day Test of 1996. In the last 50 years, only four times has a team taken all 20 wickets in fewer balls than South Africa's 436 balls in this match. England had taken only 413 balls against Zimbabwe at Lord's in 2000, which is the lowest in this case.
South Africa's bowlers conceded only 198 runs and picked 20 wickets, an average of 9.45 runs per wicket in this match: the fourth-best for any team taking all 20 wickets in a Test in last 50 years. New Zealand (thrice) and South Africa (twice) appear in the top-five in this list with Zimbabwe on the receiving end thrice.
South Africa had never won by an innings after scoring as low as 309 in their first innings. Their lowest score to win by an innings was 326 against Australia in Hobart last year. Also, 309 runs is the second-lowest total for a team to win by an innings in the last 15 years. England had won by an innings after scoring just 298 against Sri Lanka at Leeds in 2016. This is the third time South Africa enforced follow-on this year, the most they have done this in any calendar year. Sri Lanka and Bangladesh also lost by an innings to South Africa in 2017.