Hyde pounds it in to give Browns the lead
Carlos Hyde takes the handoff and finds the end zone for the second time to give the Browns the lead over the Jets.
Mayfield: 'Gotta handle business next week' in Oakland
Baker Mayfield is going to enjoy the win with his teammates, but isn't losing focus on the big picture.
Mayfield: Cleveland 'deserves' to win
Baker Mayfield is looking toward the future after winning the Browns' first game in 635 days.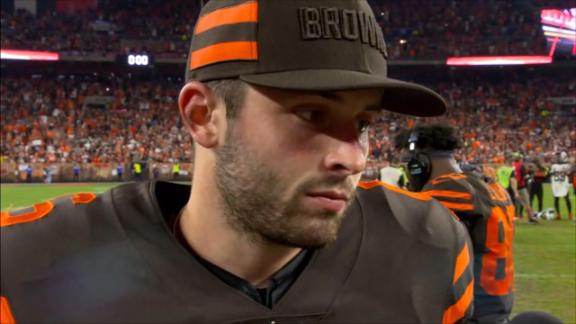 Browns are better than expected
Darren Woodson explains why the Browns are no longer the laughing stock of the league.
Mayfield pulls out tricks from Rose Bowl
Baker Mayfield pulls off a trick play, where he catches a 2-point conversion, similar to a play he executed for a touchdown in the 2018 Rose Bowl.
Darnold's INT seals Browns' first win in 635 days
Sam Darnold's pass gets picked off by Joe Schobert in the fourth quarter, which seals the Browns' victory over the Jets.
Mayfield catches 2-point conversion after Hyde's TD
Carlos Hyde muscles in for a touchdown, and the Browns get tricky on a two-point try with Jarvis Landry finding Baker Mayfield in the end zone.
Baker completes first NFL pass
Making his NFL debut, Baker Mayfield takes the field and completes a 14-yard pass to Jarvis Landry on his first throw.
Crowell uses obscene gesture on TD celebration
Isaiah Crowell powers into the end zone on a two-yard rush for the score and celebrates with an obscene gesture.
Crowell finds the end zone twice in first half
Isaiah Crowell is powering the Jets in the first half as he scores two touchdowns in the second quarter.
Chael: Khabib 'in way over his head' during UFC 229 presser
Chael Sonnen applauds Conor McGregor for making Khabib Nurmagomedov 'look like a doofus.'
Khabib says he'll send McGregor 'back to boxing'
Khabib Nurmagomedov questions Conor McGregor's wrestling skills and says McGregor is more concerned with money than his legacy.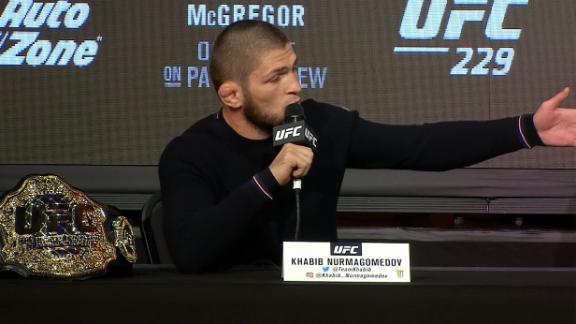 McGregor needles Khabib over Putin question
Conor McGregor pounces after Khabib Nurmagomedov responds that he doesn't want to take pictures with anyone, including presidents.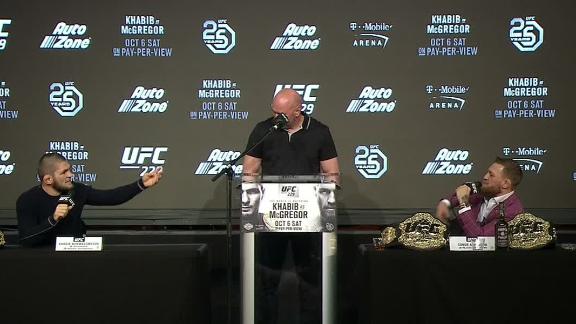 McGregor calls out Khabib over bus incident
Conor McGregor interrupts Khabib Nurmagomedov's response to criticize his behavior during the New York confrontation that landed McGregor in court.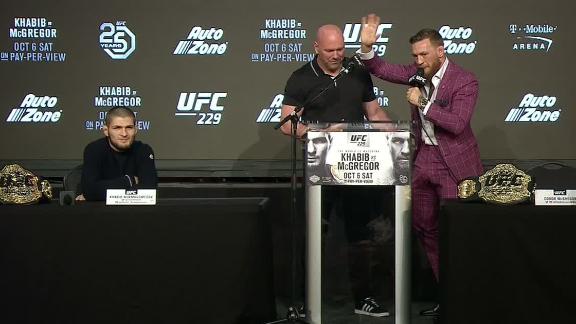 Will Ronaldo's red card against Valencia be rescinded?
The FC guys explain why it's unlikely Cristiano Ronaldo's red card against Valencia will be overturned, even though they strongly disagree with the sending off.
Extra Time: Best & worst UCL performers, Arteta not ready to manage?
The ESPN FC panel answer your tweets on the best and worst performers from UCL matchday one, if Arsenal were wise to pass on Mikel Arteta and more.
Burley: Manchester United were excellent in UCL opener
Craig Burley sings Paul Pogba and Man United's praises after their win over Young Boys, but isn't convinced they'll advance from their group just yet.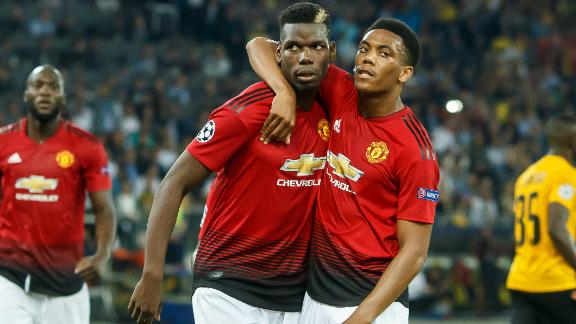 ESPN Fantasy Football promo

Manage your squad in the Premier League, Champions League, La Liga and Liga MX.

ESPN

Time is running out for the UK to secure a post-Brexit deal, and there could be huge ramifications for Premier League clubs in the transfer market.

ESPN Illustration

Ten years ago, Sheikh Mansour of Abu Dhabi bought Man City, transforming the club from Premier League punchline to a dynasty in the making.

Getty

Check out the completed deals from all the major leagues this summer.

Getty

Welcome to the life of the third-choice goalkeeper, football's version of the perpetual understudy.

ALESSANDRO DI MARCO/EPA

Brian Phillips: For some reason, Cristiano Ronaldo has as many haters as fans. Do we have him all wrong?

ESPN

Rafa Alvarez

A host of top European clubs have changed their manager. Some by choice, while others were forced into it. Here's what we can expect from the new arrivals.

Getty

Nick Hornby: This summer had English fans believing again. But was the team's semifinal run really that impressive?

Marvel

It might not be part of the traditional comic book universe, but Marvel laced up its boots to bring you the epic stories in Russia.

Paul Lacolley

ESPN FC commissioned illustrator Paul Lacolley to create team posters for some of the nations competing at the 2018 World Cup in Russia.

Gian Galang

They battle in the forest, soccer gang against soccer gang. They are the underground fighters the World Cup host doesn't want you to see.

David Merrell

Top-class football is changing before our eyes: The "storming" era of the game is leaving the likes of Jose Mourinho and Arsene Wenger behind.

Dave Merrill

"I never walk out of games early but in these circumstances, staying seemed like a form of self-harm." Nick Hornby on the last days of Wenger.

Trey Ingram

Our intrepid writer suffers -- and suffers some more -- through a player medical at Everton.

Dave Flanagan

The world's top soccer players, ranked by position.

Brian Konnick

We select the best players under 21 who are primed to rule the football galaxy.

Aaron Dana

Cristiano Ronaldo isn't just one of the greatest on the pitch; he's the G.O.A.T. off it, too. Take a trip inside the mad world of CR7's brands.

EPA/FERNANDO BIZERRA JR

In November 2016, Brazilian underdogs Chapecoense boarded a plane to play in the game of their lives. Instead, their biggest moment turned into a tragedy no one can forget.

Getty

Keep track of all the important upcoming fixtures in the Premier League, Champions League, La Liga, English Football League and more.

Getty

Results and scores from the Premier League, Champions League, La Liga, English Football League and more.

Getty

Updated tables from the Premier League, Champions League, La Liga, English Football League and more.
Customise ESPN