Oxford United 0-3 Man City: Mahrez scoring continues
Riyad Mahrez scored his third goal in four days for Manchester City as the Citizens cruise to a 3-0 win over Oxford United.
Foden finishes Man City's day in style
English Carabao Cup: Phil Foden (90+2') Oxford United 0-3 Manchester City
Gabriel Jesus header puts Man City in front
English Carabao Cup: Gabriel Jesus (36') Oxford United 0-1 Manchester City
McDonald's epic stiff-arm from all the angles
Vance McDonald catches a pass from Ben Roethlisberger and throws Chris Conte to the ground with a stiff-arm en route to a 75-yard score.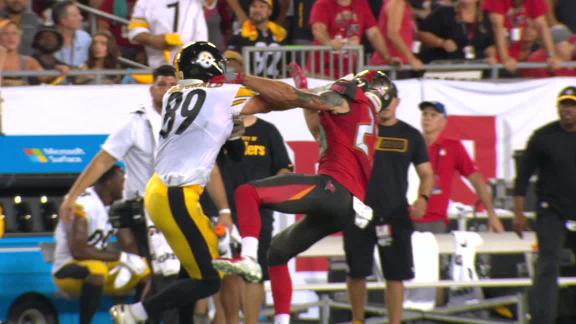 Koetter, Fitzpatrick address Winston's return to Bucs
Bucs head coach Dirk Koetter and quarterback Ryan Fitzpatrick discuss the return of Jameis Winston and what it means for the team going forward.
Brown shakes two defenders for TD
Ben Roethlisberger tosses a quick pass to Antonio Brown, who shakes off two defenders and runs 27 yards into the end zone for the score.
Roughing the passer calls aplenty on MNF
The referees throw multiple flags on the Steelers and Buccaneers for roughing both Ben Roethlisberger and Ryan Fitzpatrick.
Fitzpatrick's 3rd INT gets taken to the house
Steelers LB Bud Dupree intercepts Ryan Fitzpatrick and returns it 10 yards for a touchdown.
McDonald just wanted to 'punish' with stiff arm
Vance McDonald reacts to his massive stiff arm he used to shake off Chris Conte on his 75-yard score in the first half.
Brown says Steelers' locker room 'blocks out the noise'
Antonio Brown explains what he thinks the Steelers accomplished so far this year and how the team handles outside distractions.
Big Ben: 'We will take a win any way we can get one'
Ben Roethlisberger explains how the Steelers held off the Buccaneers and praises James Conner's performance in the win.
Steelers start off hot, fight to hold off late charge from Bucs
Ben Roethlisberger sparks the Steelers with 3 TDs in the first half and Pittsburgh holds off a fierce comeback from the Buccaneers to win 30-27.
McFarland breaks down Steelers' win
Booger McFarland joins SVP to recap the Steelers' first win of the season and the controversial roughing the passer calls.
ESPN Fantasy Football promo

Manage your squad in the Premier League, Champions League, La Liga and Liga MX.

John Walton/PA Images via Getty Images

In association with Rolex, ESPN takes a look at the history and innovation of golf's greatest rivalry ahead of the 42nd Ryder Cup in Paris.

ESPN

Time is running out for the UK to secure a post-Brexit deal, and there could be huge ramifications for Premier League clubs in the transfer market.

ESPN Illustration

Ten years ago, Sheikh Mansour of Abu Dhabi bought Man City, transforming the club from Premier League punchline to a dynasty in the making.

ALESSANDRO DI MARCO/EPA

Brian Phillips: For some reason, Cristiano Ronaldo has as many haters as fans. Do we have him all wrong?

Getty

Updated tables from the Premier League, Champions League, La Liga, English Football League and more.

Getty

Keep track of all the important upcoming fixtures in the Premier League, Champions League, La Liga, English Football League and more.

Getty

Results and scores from the Premier League, Champions League, La Liga, English Football League and more.
Customise ESPN